Show
47+
sites like

SxyPrn BDSM

:
SxyPrn BDSM
YourPorn! What's up, my precious little pervert! How's life treating you? I hope you haven't been spending too much money! Remember, those girls on Onlyfans don't actually care about you, haha! Or maybe that turns you on! You like being someone's little bitch? Well, there's no judgment here, you horny little degenerate! Although, there are plenty of places to get your rocks off without having to torture your wallet!
Today, we're talking about BDSM. The sweet art of pleasure and pain. There's so much BDSM content out there, it's hard to know where to start. Thankfully, Uncle PornDude is here to guide you through the 50 shades of fucked up. And boy do I have a find for you!
Sure! It's would be great to go to any backwoods website where you can find a gang of men doing unspeakable things to some poor little slut. But, sometimes, we just don't want to watch a bitch bound and fucked beyond consciousness. Sometimes, it's nice just to savor every single twitch and moan of a girl when her pussy is being slapped with a horsewhip. Sometimes, it's we want to appreciate fine camera work, as we watch the sweat drip from a pair of tits from five different angles. That, my filthy friend, is class. That's the difference between guzzling two bottles of vodka and passing out on some nameless whore in a cheap hotel and drinking a cosmopolitan with a fine lady at a jazz bar. (Either way, we're getting our rocks off, right? But there IS a difference!)
"But PornDude, that shit is expensive! I've already got 5 different direct debits 5 different porn sites!" I hear you, brother! This is where I come in! I've found one of the best places to jerk off to the finest BDSM action for absolutely free! It's none other than our good friend SxyPrn! Sxyprn.com offers some of the best HD S&M goodness you can find online for absolutely free! That's right! We all know that the best BDSM content comes at a cost. Well, no more! Now, your lucky little pecker gets to enjoy hundreds of top-tier BDSM content without having to drain that poor wallet. (I mean, at this point, you might as well upload a video of your bank account under the BDSM category! Haha!)
A little mestty
You won't exactly be busting a nut to the web design. SxyPrn rocks a sexy all-black theme (Like my Fridays, haha!), but there's not really much to compliment it. The titles and tags are highlighted in all sorts of arrangements. Someone must have just decided that any color would do because there is not a time in this world where black, green, and orange is an acceptable combination for fucking anything!
The first thing you'll realize when landing on the site is the pop-up ad at the bottom right-hand corner of the page. You have the option to close the ad, but don't worry, you'll receive a new pop-up shortly after. Once you click off of that one, you'll likely get another pop-up in the middle of your screen. So, you're gonna need to turn on ad-blocker if you don't want to be batting away ads while your cock is deflating in your hand.
The navigation bars and buttons are a little messy, but they're clear and easy to navigate. At the top right-hand corner, you'll see a search bar. There, you can type in anything your twisted little mind can conjure. Just hit enter to receive hundreds and thousands of videos with tags relating to your request. And there's A LOT of good content to find relating to your request. Under the BDSM category, you'll find a neat list of thumbnails with girls so gorgeous, your fucking head will explode! Just hover over the thumbnail to get a high-definition preview of the hour of fun you're about to have. (That's right. I said HOUR! Full-length videos, my friend! More on that later.) It's a fucking treat to browse through all the gorgeous, degenerate whores you're going to bust your load to. It would be more enjoyable if I wasn't clicking off of tabs every time I accidentally click the page though! Seriously!
At the very least, the page doesn't have a hoard of banner ads taking up the free space and distracting from the shit that you want to see. You'll find one Brazzers banner ad at the top and a collection of ads at the bottom. The usual stuff: "Hot Grannies inYour Area", "Desperate Women", "Tik Tok for Sex", etc., etc.
Under the navigation bars, you can find a list of categories related to your search. For BDSM, you'll get "BDSM bondage", "BDSM, anal", "Lesbian BDSM"... You'll see this for every extra category. So, you can really start to travel down a naughty little rabbit hole! Don't get lost!
HOT HD content for absolutely free!
If you haven't turned on your ad-blocker, I've got some bad news: Each video has an advert at the beginning. For some reason, it's a YouTube ad. So, it's not even like you can fluff your dick to some bitch asking you to visit her on LiveJasmine.com. Sometimes, you can't even skip the video! You have to wait the whole 30 seconds. I don't even like doing that on YouTube, let alone a site I beat my dick to!
Don't worry though! Once you get through the video ad for Christian podcasts, you'll find that the wait was completely worth it! You'll have complete access to a full-length, HD, BDSM movie. SxyPrn has a large buffet of long-form HD bondage content. So, you can beat your dick to the classiest kind of depravity for absolutely free! The only deposit you'll be making is into your cum catcher of choice.
There are plenty of options to interact with the videos. If you liked the video, there's the option to give it a thumbs up under the video. You can even submit a reaction emoji so you can show the face you made after you busted your load! And if the video gave you an orgasm that you'll remember for the rest of the week, you can hit that "orgasm" button. I'm sure the girls in the video will appreciate it!
While I was doing my "research", I saw a full-length video of Maddy Black getting a train run on her by 3 large cocks. That girl took that shit like a champion! Seriously, you don't see skill like that every day! That bitch had her feet chained to a pole and she was still wielding 3 dicks at once. It was like watching a juggling act! What a fucking sight!
I couldn't get enough of the sounds she was making while chugging down those cocks either! She sounded like a wild animal! Like, holy shit! I didn't know sounds could come from something so pretty, haha! The cherry on top was watching that petite beauty getting pissed on while glowing on the floor! She looked great with that collar and chain strapped to her neck. What a thing of beauty! Are you excited? You fucking should be! Haha!
What I liked
Sure, you can't really go a full minute on the page without closing an obnoxious amount of ads. But when you're getting 4-hour-long HD bondage sessions with the hottest babes in the industry for completely free, there's not much to complain about! What are 30 seconds for a free full-length video of high-quality, hot and sweaty, titty-slapping, ball-busting goodness!
If you've read any of my reviews before, you'll know that I'm a sucker for thumbnail previews. I don't want to have to open up a new page only to see that I'd prefer to cum to literally anything else. You've gotta love a site that respects your time. SxyPrn does just that!
Oh, I forgot to mention. Not only can you stream these HD full-length bondage videos for free, you can download them too! Yeah, you read that right, you lucky bastard! Fuck bookmarking your favorite video — download that puppy straight to your hard drive! That way, if you find yourself stranded with your laptop and no internet connection, at least you've got your dick covered! Who needs clean water when you have a 4-hour-long fuck-fest right at your lap!
What I didn't like
Come on, guys. The amount of ads that I'm clicking while my dick is in my hand is fucking ridiculous. I mean, I get it. You're giving away some fine fucking content for completely free, but damn! I can't stay on a page for more than half a minute without having to close at least 5 tabs. I mean, I can't even ignore them because each pop-up directs me to the new tab! Littering your page with relentless invisible links is a great way to show your users you don't respect them. You provide us, porn enjoyers, with the finest content. So, come on… You're better than this.
Tips from ThePornDude
One thing I noticed when watching these incredible videos, is the lack of activity in the comment section underneath each video. I tried to sign up to get things going only to realize that there was no way to create an account. SxyPrn gives you the ability to log in, but there's no way to sign up! Do I need to speak to someone? Is this some kind of exclusive club? If so, then let me in! I'm the motherfucking Porn Dude! How the hell are you supposed to build a thriving community with no new users!?
I also suggest finding a way to display ads. Having a lot of free space on your results page is great, but it doesn't really matter when you can only see it for 10 seconds before you're directed to a completely random page. These girls are fucking gorgeous! Why do you want to kill my boner with an Amazon offer?
Conclusion
SxyPrn houses an impressive collection of full-length, rough playing content at the highest quality. If you're tired of watching some poor bitch choking on 5 guys' cum through a grainy camera, and you don't want to pay for the top-shelf shit, SxyPrn has you covered! You can watch premium babes get down with freakiest activities, and you don't have to touch that wallet. The relentless ads are a small price to pay for some of the classiest bondage play you'll see in your life. Try not to break your dick! Godspeed, my fiendish friend!
Free HD movies
Thousands of the sexiest girls
Full-length movies
Daily Uploads
Too many pop-up ads
Long video ads
Unable to create an account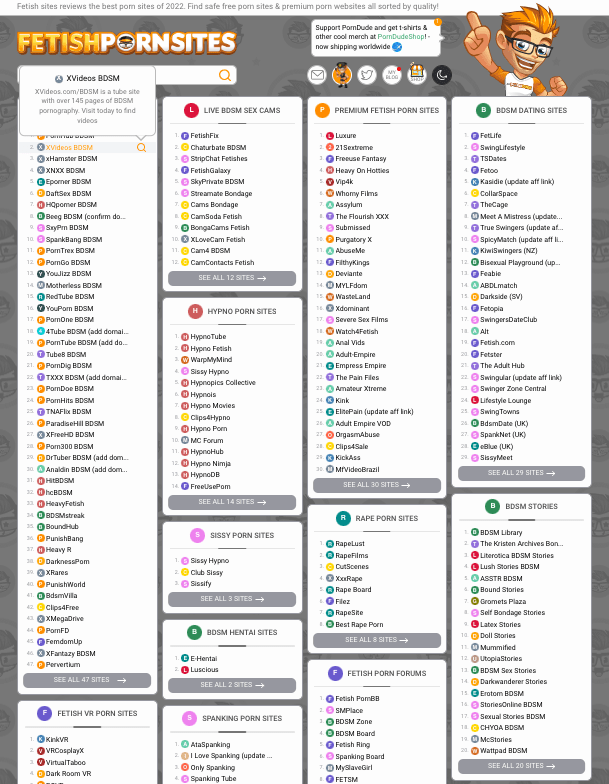 47+ Free Fetish Porn Tubes LIKE SxyPrn BDSM