Show
47+
sites like

TNAFlix BDSM

:
TNAFlix BDSM
TNA Flix! How's it going, perverts?! Today, we're going to go down the dark and beautiful road of BDSM. You know those beautiful dark, twisted fantasies that everyone's had at some point in their life. And I mean everyone. Yeah, including your mom! Where do you think you got your freakish taste in fetishes from? Do you really think she hasn't fantasized about being tied up and fucked by a gang of strangers? If she hasn't, then my friend, that's because it actually happened. But don't worry! We're not here to judge you or your mom!
Where you're going, there's an entire community of people with fucked up fetishes just like you do! (And yes! Some of them are actual mothers!). Once you join, there's a chance you might find someone willing to experiment and explore all of your crazy kinks with you! T'nAflix has a thriving community of perverts with a healthy appetite for the rough and risque. The streaming service is home to some of the best amateur porn you'll ever encounter, with thousands of uploads from people who love to share their dirty little fetishes.
T'nAflix has an impressive repository of hardcore videos of all kinds. Sure, it's not as big a collection as bigger sites like XVIDEOS (a personal favorite). But, there's an active community that really cares about sharing the most authentic and sexiest kind of filth that gets them off. You'll find some of the wildest, sexiest, and most unique videos you'll have seen in a really long time, my friend. So, get that butt plug and gimp mask! You're about have a good fucking time!
Sexy content, not so sexy design
When I entered the site, the first thing that I realized was its completely uninspired color theme. The site is washed with a mix of blue and, well, lighter blue. It looks like an off-brand Facebook rip-off. Seriously, this site has some fucking sexy content. I have no idea why they would ruin it with such a sexless color coordination like blue and fucking lighter blue! At the bottom left-hand sign, there's a little sun icon that you can use to switch to dark mode. It's a nifty little widget that turns the dominant blue into black (Dark mode.) It's better. Not good, but better.
Along with that, the site's overall design is kind of messy. There's a lot of stuff everywhere; a lot of numbers, small icons, drop-down arrows, etc. It's kind of debilitating at first, but everything starts to make sense once you take a moment. There's a lot to the site, and I guess there's a lot the developers wanted to add. It doesn't take away from the site, but the initial messiness doesn't help with the already unsexy Facebook rip-off color theme.
I've been in a really naughty mood this week. So, it was pretty satisfying to look at the sexy blonde with the ball gag on the banner of the BDSM section. I felt like the website was telling me, "I know where your head's at, you naughty little perv!" There's a banner for every category on the site. A small but nice little touch that shows that everyone on this site really cares about their sick little fantasies!
The navigation bar is actually one of the most impressive that I've seen. You can see all the tabs across the top of the page with little drop-down arrows. When you hover over the tabs, a full preview of the page will drop down for you. I'm not talking about links to the subpages. I mean a full fucking preview! Hover over the "Pornstars" section, and you'll see a picture of the top pornstars on the site and the option to search the page by alphabet. Hover over the "Channels" tab, and you'll see the top channels on the site (Right now, people are fond of Blacked and Japanese piss porn.) Hover over the "Categories" section, and you'll see picture previews of the current trending categories.
You'll see a tab for the videos and the galleries on each category page, with the number of videos and pictures at the side. As it is, T'naFLIX has over 100,000 free videos for your sick little ass to get off to.
Sexy and exciting content
T'naflix has a fantastic collection of the roughest amateur videos and collections I've seen in a long time. I'm always impressed when I see something new, but with this site, I see something new every time I refresh that fucking page. I haven't seen this much creativity since my ex-girlfriend took acid and gave me a blowjob! (What I wouldn't do to have that again!)
There's a wide variety of content. You'll find everything from amateur videos, homemade videos, hentai, and 3D porn. The uploads are from user accounts that love to share their twisted fantasies. For example, I was scrolling through the BDSM page one time, and I saw a picture of this insanely large guy; have you ever heard of the term "fat ugly bastard"? It's a term that's popular in the anime porn scene. It's a type of character that's drawn, usually depicted bondaging and fucking the shit out of a girl a fraction of his size! I thought I saw a picture of a guy who actually looked like one of those characters! It turns out it was a 3D video rendered so good I thought it was real! You better believe I had fun with that anyway!
You're going to find some real creativity on this site! You're not just going to find anything you can think of; you'll see things your dirty little mind would've never thought of! There are videos of girls dominating girls, guys dominating girls, girls dominating guys, girls getting dominated by a group of guys, or even a group of girls! It's all fucking glorious! Every single video is handpicked or uploaded by someone who is just as serious about their twisted fantasies as you are!
I saw a video of a girl getting roped up and gang-banged (get this!) in public! Can you imagine being in an audience watching a girl take multiple cocks to her throat? I hope her parents are either dead or Amish because finding that online would fucking break them! I also saw a video of a guy tied up while his girlfriend river dances on his fucking cock! I could never understand why guys get off to having their little guys nearly mutilated, but they both seemed to be having the time of their lives! In that video, the girl wasn't wearing any shoes. So, it wasn't as gnarly as some of the over-the-top dominatrix stilettos and blood shit some guys would pay for. Seriously, there's got to be a point where it stops being about sex, and it's just pain, right?
T'nAflix has managed to attract some of the most sexually depraved minds in the world to cultivate a community of degeneracy. Although, unlike many kink sites, it's nothing that will make you want to say 10 Hail Marys and wash your eyes with holy water. The content on T'nAflix is a lot more tasteful than some of the other dungeon crawler shit on sites like Motherless.com.
What I liked
T'nAflix has some of the best amateur videos I've seen in a while. At this time, amateur porn is the most-watched genre in the world. People want something real. They want to know that the girl isn't some professional but just some slut who wants to get freaky before the world. T'nAflix provides that material by the fucking truckload and then some!
There are no pop-ups, which is always appreciated on lesser-known sites. I've mentioned before that it's clear that the developers and community of T'nAflix really care about the website and community. With unique videos and active members, you're bound to find a place for your twisted little brain to fit in.
What could be better
There isn't really much to dislike about this site. It's practically perfect. The only turn-off would be the initially messy web design and the totally sexless color theme - it wouldn't hurt to make some improvements. Seriously, red and black, pink and white, red and pink, anything would be better than fucking blue and lighter blue.
Tips from ThePornDude
There's a lot to this site, and the navigation system is pretty damn impressive. However, it would help to have a more comprehensive filter system with such unique content. At the moment, the amount of ways we can filter through the videos is pretty damn limited. Try including a "filter by sexuality" option that sites like XVIDEOS include, e.g., straight, gay, and trans. It would also help if you could choose multiple tags at a time. Sometimes, I'm in the mood for "Petite Asian Deepthroat Forced Orgasm," and I want to find that shit straight away!
Conclusion
T'nAflix has a fantastic collection of some of the most-unique amateur hardcore porn videos that I've had the pleasure of experiencing. It hosts an active community that cares about the content they share. So, you're guaranteed to find only the best and most creative BDSM/S&M content. Whatever your sick little fantasies are, you're sure to find something on this site that'll keep your hand glued to your dick for days! So, go forth and join a community of fellow freaks! They're waiting!
Amazing amateur porn
Unique videos
No pop-ups
Free sign-up
Active community
Basic filters
Kind of ugly design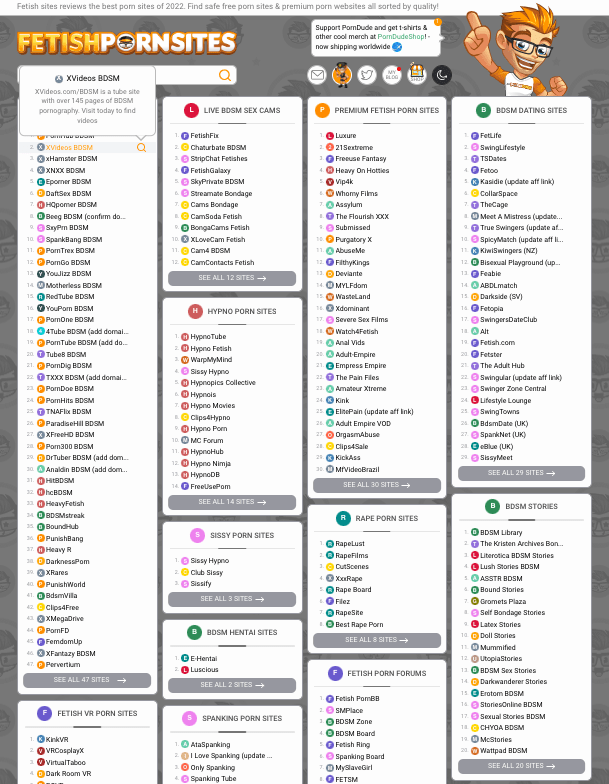 47+ Free Fetish Porn Tubes LIKE TNAFlix BDSM