TXXX BDSM (add domain webmaster program)
Show
47+
sites like

TXXX BDSM (add domain webmaster program)

:
TXXX BDSM (add domain webmaster program)
I've been watching BDSM porn at TXXX all morning, and boy, are my arms tired. I've also got a burning, tingling sensation and a lot of redness all over my bare butt, balls, and back. I suppose these are just the occupational hazards of being a professional masturbator and porn tester, putting me in a much better boat than anybody working in an office. Your business uniform might include a tie, which is awfully similar to the leashes you'll find around the necks of some of the restrained broads we're about to gawk at in just a minute here. The question is whether or not you're getting any pleasure out of the predicament.
TXXX.com is a relatively well-known free porn tube, pulling around 75 million visits every month. They're currently #26 on my master list of Free Porn Sites over at ThePornDude, which is a pretty high slot when you consider just how many sex tubes litter the web. Today, though, I'm not going to focus on their everything-goes approach to dirty movies. Instead, I will head straight to their BDSM section, where this free tube is archiving a truly kinky collection of bondage porn. Of course, we already know the vanilla perverts are happy with the site, so let's see what they have for the freaks like us.
Something for the Freaks Like Us
TXXX doesn't look all that different from any other porn tube from the outside. Their header is simple as hell, with just a site logo, a hamburger icon with some links buried inside, and quick links to some of their more popular categories and tags at the top. The rest of the front page has a pretty typical assortment of porn, from interracial BBC threesomes to taboo family role play to amateur blowjob movies. If you've seen a free porn site in the last decade, you know what TXXX looks like.
The BDSM section, however, is a slightly different story. The layout is the same, and so are the popular categories listed at the top, but the thumbnails give the joint a whole different vibe. Also, the white background looked too damn clean, so I switched over to Dark Mode to give it a more appropriate dungeon feel.
This is not to say all the videos take place in a dungeon. However, some certainly do: I immediately see one naked babe standing spread eagle in such a location, chains holding her limbs apart while a machine fucks her twat, plus a pair of women bound in rope and hanging from the ceiling in another dimly lit locale. Further down, a lady gets waterboarded, another is forcibly milked, and a trio of Asian broads is held in medieval stocks.
Other thumbnails in this aisle of TXXX eschew the "BDSM scene" accouterments in favor of more domestic flavors of bondage. Instead of leather-bound masters, guys in polo shirts hold a chick down for a brutal double penetration gangbang in somebody's living room. There's also a video of nylon-clad lesbian domination that looks like it takes place in a shrink's office, a bound bitch getting her face fucked in the shower, a really rapey looking hospital, and even a superhero parody with decent production values and a lot of restraint in "unforgiving devices."
In other words, TXXX.com has all kinds of BDSM porn in their library. It's worth noting that the collection does lean more towards male-dominated movies than femdom. I didn't see any dominant women on the first page, but there were a few scenes of pegging, cuckolding, and men getting whipped on the second. One kinky 18-minute video features a few women sticking their very well-lubed hands and feet up a dude's ass.
Holy Fuck, That's a Lot of BDSM Porn
Not only is TXXX's bondage selection varied, but the whole pile is absolutely enormous. Unfortunately, the setup doesn't make it easy to dig to the bottom, so I started tweaking the URL to see how far it goes. It turns out there are thousands and thousands of pages of thumbnails to peruse. Specifically, there are over 151,000 movies in the category if I'm doing my math right.
Now, it's certainly possible that TXXX is pulling some shenanigans with the search engine to make it seem like the collection is bigger than it really is. That said, I'm inclined to believe it's a genuinely huge collection. TXXX.com runs on user uploads, they get millions of users per day, and they've been around since 2013. See what I'm getting at?
The BDSM section alone gets dozens, sometimes hundreds of new additions per day. I'm writing this on a Tuesday afternoon, and there have been around 80 new bondage movies added today. As I've been typing up the review, I've been refreshing the first page of the selection periodically. There's fresh content every time.
The latest flick, added literally within the last few seconds, is a 16-minute movie called Squeels 21. It opens with a babe in fishnets sleeping on a bed. A dude comes in and starts kissing her and fondling her, eventually even going down on her while she squirms around and pretends to sleep. She finally wakes up halfway through, at which point he gags her, ties her up, spanks her, and continues having his way with her. Hot!
The tagging on big porn collections tends to be an absolute clusterfuck, so I'm impressed with how tight the selection actually sticks to BDSM. I don't see many misfiled or poorly tagged videos at all, no random amateur hookups sitting amongst the domination and humiliation movies. So either the TXXX user base is better than most when tagging their uploads, or there's some quality moderation before vids go live. My money's on the second option.
Who's This Tied-Up Hot Chick?
You'll find a mix of different stars featured in TXXX.com's BDSM videos, from total amateur newcomers to fetish models to more traditional pornstars. The one thing I've noticed on user-uploaded tubes like this one is that the big-name starlets tend to be in the minority in the kinky sections. While girls like Abella Danger do occasionally appear in some freaky fetish movies, the "bondage" content put out by the bigger studios tends to be softer than what true fetishists and BDSM enthusiasts prefer.
Looking at the very latest page of new additions, I only see a couple of really big-name pornstars, which is a far cry from the featured stars in other parts of the site. It's no surprise to me who the girls are, either, considering they're both absolute freaks even in their more traditional porno roles: Adriana Chechik is bound and boned in one scene, and Gia Derza is surrendering to a hotwife in another. (If you missed Gia's scene over at PornDudeCasting, it's worth tuning in for. She fucks herself with a bottle before fucking your old friend ThePornDude!)
I refreshed the selection again and saw another couple of dozen movies had been added since I typed up the last few paragraphs. I figured I should settle in for my fap test, or I'd just get hung up waiting for still more fresh uploads. So with that in mind, I clicked on one called Megan and Safa Taped. Megan Jones and Safa Warda are both pretty fucking popular within the fetish porn scene, and I bet some of you deviates are more familiar with them than the more mainstream pornstars.
The ten-minute video starts with a brand logo and a little disclaimer that they're both consenting; then, we see the girls having a nice time chatting on the couch. Then, suddenly, the laughter stops, and the vibes shifts because they heard something outside. "Who are you?" Megan asks the man behind the camera, looking scared.
I don't want to spoil the whole thing, but both women end up tightly bound with duct tape, squirming around on the couch and the floor, moaning through their taped-up mouths. Honestly, I'd jack off to Megan making toast, but this is even better.
If you're into BDSM, TXXX.com is kind of a no-brainer. The collection is one of the biggest I've seen on a free tube, with a variety for all types of perverts. I've been touring a lot of fetish tubes lately, and with my adblocker running, this was one of the most spam-free faps I've had this week. There's really nothing to get between you and 151,000 free bondage videos unless maybe they've got a filter on the library computer where you're masturbating.
Free tube with lots of BDSM
Wide range of BDSM movies
151,000+ bondage videos
An insane number of new vids are added daily
Fetish models, amateurs, and pornstars
Minimal spam
Lost productivity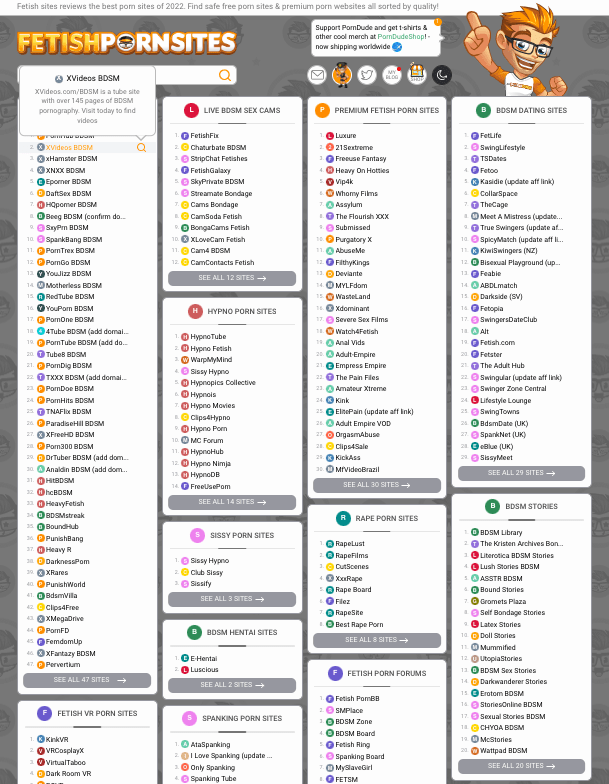 47+ Free Fetish Porn Tubes LIKE TXXX BDSM (add domain webmaster program)