Show
47+
sites like

xHamster BDSM

:
xHamster BDSM
Finally, I can delve into content solely created for you depraved fucks out there. No pain, no gain, right? Well, if you're the kind of kinky fapper that needs to see bitches tied up, spanked, punished, and used like the walking fuck-toys they are, you'll be pleased by the treasure trove of BDSM content I have for you today. I'm referring to everything from light shibari play to pain, piercings, ball-busting, gimp suits, and suffocation. And if that shit isn't your speed, well, what the fuck are you doing here? There are several other platforms that deliver vanilla-ass boring content if the idea of missionary sex gets you hard as diamonds that you could check out.
Now, if you've jerked off to free porn on the internet for any length of time, you've probably heard of Xhamster. But I'm not here to talk about the website in general; 90% of its content won't even get you pain-loving freaks a half-chub anyway. So, on the contrary, this time around, I'm only going to focus on their hot BDSM category. If you by chance you didn't know, this lovely platform has been around since 2007 and currently brings in 1.3 billion horny fucks every month. Not million. Over a fucking billion. So, strap in and follow along as I deep dive into this cesspool of fucked-up content.
A Sleek Website with Minimal Ad Clutter and Loads of Great User Features
To get to this hub of painful, kinky content, you'll want to head over to the category list on the left-hand side of the site and hit "BDSM." It'll be easy. You fucks don't even have to scroll down that much to find it. But if you're too lazy to get that done, you can plug "Xhamster.com/categories/bdsm" into your search bar to get ferried right over to the correct page. You'll know you're in the right place when you see dozens of previews of chained-up sluts being used and abused.
I love how Xhamster organizes its pages and catalog. Sure, there are ads, but you don't have to contend with redirects and dozens of pop-ups as you would on other free porn sites. You'll see some banners, boxes, and cams being advertised, but that's about as far as ad clutter goes. And if you don't like the appearance of the basic white theme the site loads by default, you can always hit the sun icon in the top-right to plunge it into a nice, sleek dark mode.
Create a Free Account to Follow Your Favorite Uploaders
Oh, creating an account is free. You just have to link a valid email. There's no subscription cost or any such bullshit. An account allows you to save videos for later viewing, leave comments, leave likes, and even submit your own kink-filled content if that's what you're into. I'm sure you have a submissive bitch who would get turned on at the thought of a bunch of chumps jerking their dicks to her. So get that hot home video content uploaded for the horny masses.
And, fuck, you get a lot of sorting options for this shit. This is good since there are over 1,800 pages worth of content to explore. That comes out to tens of thousands of fap-worthy videos for you fucked-up fetish freaks to enjoy. There's a quick list of related tags that you can search by, like "BDSM webcams, Extreme BDSM, Lesbian BDSM, and BDSM fisting." You can also sort the entire page by trending, recommended, best, longest, HD, 4K UHD, and VR content. Hot damn, that's a ton of options. I found them easy as fuck to use, and I could narrow down my search to precisely the type of hot BDSM content I was looking for.
Hot Previews and Plenty of Filter Options Make Finding the Perfect Video Easy
All of that good shit isn't even considering these dope previews. Each one of these HD previews gives you a title, view count, rating out of 100%, video length, and an HD tag. And to make this shit even better, you can hover your cursor over a preview to get a 5-10 second clip of the action within. This way, you never have to go into one of these videos blind. Instead, you can glimpse the production value and ensure that you're only fapping to the best content.
Once you've spent enough time narrowing this catalog down to suit your picky tastes, you can click on any of the previews to be taken directly to the full video page. You'll find that Xhmaster hooks you up with a large video player with quality toggles and all of that good shit. You might experience a pre-roll ad or two, but you'll be good to go after that. I didn't run into any lags or buffering issues with any of the kink-filled videos on this website.
Stream 4K UHD and VR Content Without Paying a Dime
You'll see a list of related tags above the video and a suite of options below for rating the video, favoriting it, or leaving a comment. And, of course, you can also scroll through a list of related BDSM videos. If you find a kinky uploader that puts the best content on the site, you can click on their profile and favorite them to get notified whenever they upload new videos with just a few clicks. You horny bastards should have no issues loading these videos up to jerk off to. Well, as soon as your dom babe of a girlfriend gives you permission to cum.
Solid Mobile Site Makes Taking BDSM Content on the Go a Breeze
You sex-starved cucks will be pleased to hear that this site works great on mobile. Of course, it's fucking Xhmaster, so I expected nothing less. But, yeah, the mobile version is a breeze to use and allows you to take all of this fetish-packed content with you no matter where you are. After all, you need something to get yourself pumped up for the BDSM meetup, right? This site is well-formatted and easy to use on basically any mobile device.
FetishPornSites Favorite Features
If you're looking for one of the largest catalogs of amateur and professional BDSM content, you sure as hell have come to the right place. This site is fucking jam-packed with HD, UHD, and VR content for you to rub yourself raw to. It's fucking insane how much free content is on this site in just this category alone. Specifically, you will find 10,000+ videos of horny, kink-addicted sluts getting abused for your enjoyment. Shit, it doesn't get much better than that.
But thankfully, this site doesn't just leave you to sort through all of that content without any help. You've got loads of filter options, informative previews, minimal ad clutter, a free account, and a dope mobile version of the site to give you a hand. It's easy as fuck to filter this catalog down to the perfect videos. I can't think of many other websites off the top of my head that make accessing content this goddamn easy.
FetishPornSites Suggestions
And, fuck, I actually can't drum up much of anything to bitch about this website this time around. You don't get 1.3 billion people blowing loads to your site without doing something right. As expected, this site fucking nails it in terms of content, search tools, and usability. It's one of the most dominant porn sites out there for good reasons. So, what the hell are you degenerates waiting for? Don't worry; I'll wrap this up quickly so you can go jerk off to this hot content.
FetishPornSites Final Thoughts
Overall, Xhamster.com (BDSM) is a must-visit if you're looking to jerk off to free BDSM content. This site has it in fucking droves. You'll never exhaust this ever-growing catalog of over 10,000 HD, UHD, and VR BDSM videos. Besides, it's all available for the low, low price of free. You can't beat that! And this website gives you all of the tools you need to find a new favorite studio, star, or uploader. It even has a dope mobile site for on-the-go fapping! So, get your horny ass over to this awesome site and check it out. You won't be disappointed.
10,000+ BDSM porn videos
HD, UHD, and VR content
Sleek site design with loads of filter options
Reasonable ad clutter
A dark theme
Great mobile version of the site
Nothing yet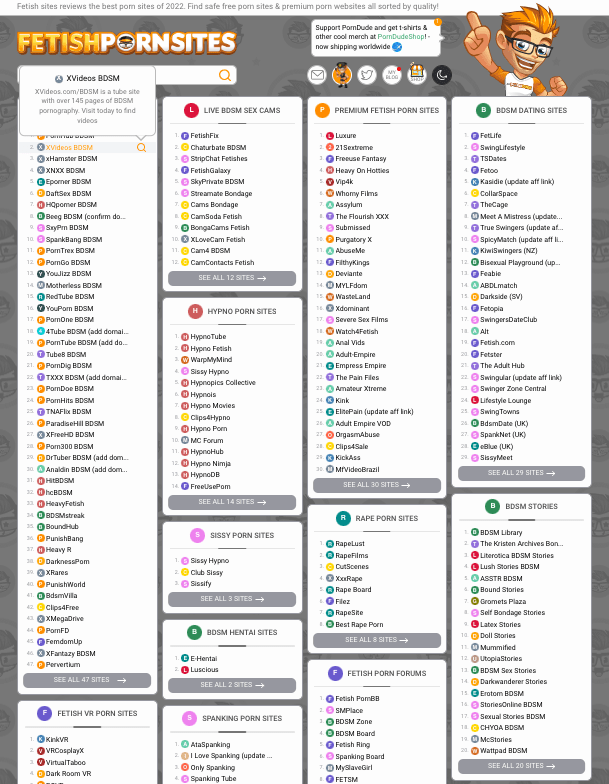 47+ Free Fetish Porn Tubes LIKE xHamster BDSM