Show
47+
sites like

XMegaDrive

:
XMegaDrive
X Mega Drive! How is my favourite pervert? Is that cock treating you good? I hope so! I feel like it's my obligation as the internet's finest porn connoisseur to remind you to practice a healthy sex life. Too much of anything is bad for you. Haha! I'm just fucking with you! I've been busting nuts every day since I was 10! You'll be fine!
Are you looking for something new? Let me guess. You've watched pretty much everything Pornhub has to offer, and a part of you knows there's something more out there. There's got to be something more than Mia Khalifa's painfully vanilla porn videos, right? RIGHT! Of course, there is! You've just got to know where to look. And Uncle PornDude has got just the thing for you!
XMegaDrive is a newer porn site with some of the most unique amateur content on the internet! Sure, there are freaks all over the internet. We've seen them everywhere; just go to any "gonewild" forum on Reddit and you can see some of the most depraved degenerates the world has to offer. (You're welcome.) But, where can you see normal girls do the sexiest freakiest things on camera without going to the depths of the internet? XMegaDrive has you covered.
This site contains an insane collection of depraved bitches from all over the internet. You're going to find some of the hottest, dirtiest solo action from bitches that could live just across the street from you! This is more than just an aggregator site. XMegaDrive brings all the dirtiest clips of girls expressing just about any fetish you can think of to varying degrees — from sexy to downright depraved. You can even view videos of girls performing sex acts that other guys have generously requested and commissioned. You want to see a random housewife masturbate with a cooking whisk? You've found the right place!
Clean enough for an adpocalypse
So, first thing's first. You're going to have to get over the outrageous amount of ads you'll deal with, going into this site. Sure, the all-white theme is sharp and clean. It's simple, and simple is great. The problem is, you can't go more than a few moments without having to click the "back" button when you're directed to a random page. As good as the content is on xmegadrive.com, you're going to struggle to see it through the relentless ads.
Aside from that, the design is pretty good, as porn sites go. There are no needless bells and whistles, no pointless buttons, no convoluted user interface. No one wants to go through multiple pages just to get to the category sedition, right? At the top right of the page, there's a navigation bar with buttons related to your account. Creating an account is a little awkward, but simple enough. Just click the "Sign up"/ "Log in" button and put in some basic details. You'll probably arrive on a 404 page after you register, but don't worry. Just click "back" a couple of times and you'll see that you've already been logged in. It needs a little tweaking, but it works, I guess.
Below, you can see a simple navigation bar. From there you can choose the type of content you'd like to see. Click the "Top Rated" button to see what all the other horn-dogs are busting their nut to, or choose the "Latest" link to see what the newest freaky sluts are uploading. If you're feeling even more adventurous, you can see what these freaks are getting up to in the "Premium Clips" section. I promise you will not be disappointed!
On the main part of the page, you can see a large list of videos of the latest and most popular uploads. There is a mixture of free and premium videos to choose from. So, if you're thinking of adding yet another porn subscription to your list, you can try before you buy. You can even hover over the thumbnails to see a slideshow of the action. I'm a real sucker for sites that care about my cock enough to not waste my time!
Freaky sluts next door
There are all kinds of girls on this site. Some clearly have their own channels, are featured on some other porn site, or maybe have an OnlyFans account. But, some of these girls are just regular whores with an appetite. And that is something I think we can all appreciate.
On XMegaDrive, you can find some of the most creatively sexy videos from girls that could be your fucking neighbour! I've rarely seen such a collection of talented amateur bitches! Just think; How many of the girls you work with, live by, or even commute with, get off on doing the freakiest shit and posting it online for me to jack off to? Haha!
There's such a large variety of girls too! I'm always happy to know that the world is full of depraved sluts of every kind! XMegaDrive is like an all-you-can-eat buffet for fetishes. There's no doubt, you're going to find a slut that gets off to the things you dream about.
I was mesmerized by a video of Nadine J De Lucy and her outrageously gorgeous tits. I swear, I sat there for a good 10 minutes, just watching that bitch's tits bounce up and down, jiggling from side to side, and squirting milk! I didn't even have my dick in my hand! I was fucking stunned by what I was watching! Seriously, watch it for yourself and see! You'll be thinking about those tits for the rest of the fucking day!
And if you thought that was good, there's a world of premium content for you to enjoy! You can simply go to the "Upgrade To Premium" button on the navigation bar to set up a payment of $26.95 dollars. "No! PornDude! Not another fucking subscription!" I hear you! But, listen to me, my horny friend. This subscription will probably be worth getting rid of that e-thot you're paying on Onlyfans. Where else are you going to watch some slut stretch out her pussy for YOU on camera? Is your Onlyfans girl going to do that? I don't think so!
Creative sluts
I could not get enough of the depravity on this fucking site. There were bitches of all shapes and sizes getting off to every kink you can imagine. My cock could not get enough of it! I've rarely seen this kind of amateur talent in one place. I saw a video of some bitch sticking a dildo in her pussy — pretty regular shit, except the dildo, was about the size of her! Like, holy shit! That would kill any other bitch!
There is so much unique content on here, there's absolutely no way you're going to run out of shit to jack off to. Some of these girls might even give you a new fetish! I think I have an even bigger thing for feet now!
Unbearable ads
The reason I wouldn't rate XMegaDrive too highly is the number of ads on every corner of this site. Sure, there are a lot of great girls with a lot of great content, but you'll only get to enjoy it for about 15 seconds before you're clicking off of at least three ads. Some of the ads won't even open in a new tab! They'll direct you to the page on your current tab! I mean, at least give me the option to ignore it.
Not only that, but the amount of pop-up ads on the page makes the site damn near impossible to navigate! I can't even get a full view of the page without clicking off three or four ads. And that won't even matter, because I'll have to refresh the page when I'm directed to some random offer page! I can't even play a video without closing at least five tabs!
Tips from ThePornDude
The content on the site is fantastic. However, that won't fucking matter when your site is basically unusable. Every user will for sure have to download an ad blocker to get to one video. Who the hell would buy a subscription to a site like that?! XMegaDrive needs to be way more accessible for users.
I also don't want to be submitting payment for subscriptions through some site I've never heard about. TezFiles? That sounds like a site to torrent porn with shitty video quality. Considering the number of ads I had to click just to get to the damn page, I'm not exactly frothing at the mouth to give my credit card details.
Conclusion
XMediaDrive has some of the most impressive collections of amateur whores I have ever seen. There's an amazing list of girls of every kind to satisfy every fetish you can think of. If you're bored of the super vanilla shit, you're seeing on Pornhub, XMegaVideos is the place to be. The only problem is getting past the unreasonable amount of ads that are going to be forced down your throat. If you're liberal about where you put your credit card information and you've installed the latest ad-blocker, you're going to have the fucking time of your life! Have fun, you fantastic freak!
Creative amateur sluts
Amazing unique content
Large variety of freaky sluts
Fantastic premium content
Too many pop-up ads
Intrusive on-page ads
Dodgy subscription service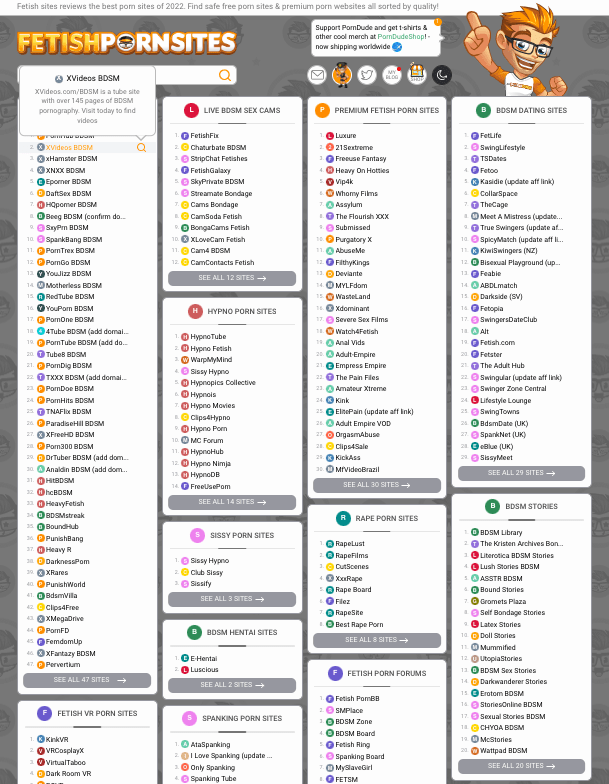 47+ Free Fetish Porn Tubes LIKE XMegaDrive