Show
34+
sites like

CrazyForFeet

:
CrazyForFeet
Crazy For Feet! Where are all my foot fetish fans? I know they can get quite a bad rep for being odd for liking feet, but not on my terrain. I am not here to judge your fetish or tell you what you should and should not like. I am here to give you suggestions of sites where you can make your fetish bloom. So if you are into feet, you have stumbled upon the right website.
Welcome to CrazyForFeet.com, a foot fetish forum website filled with all sorts of fetish content. The website is free, so you can browse as much as you want. Though, this is a forum site, so if you expect anything other than just that, I am not sure what the fuck to tell you. Forums are not known for offering tons of content at one place, it is more about the community.
This sounds interesting, doesn't it? I mean, if you are just here for the content, there are tons of other sites you can explore as well. I don't think visiting forums is the best choice if you just want to get your noodle wet. If you are here for the community and the content, then you are going to love what CrazyForFeet.com has to offer.
You want to learn more about CrazyForFeet.com? Well, that is what I am here for! I shall go over all the important points of this forum, which can help you decide whether this site is for you or not… Or you can just visit the website on your own and just fucking explore it, it is free after all.
The design is pretty basic, but it works.
Everyone has their porn preferences, and if you just so happen to be crazy for feet, I got you. CrazyForFeet.com is a forum designed just for you, and others who share the fetish. So you are free to explore the website as much as you want. The site is free and all the content is free as well. When you open the site, the homepage is filled with all the threads. Honestly the design is pretty basic, but that is to be expected.
I am not that happy with the overall color scheme. The threads are white, and the background is red. Who the fuck can read anything when the background is super red? I know that I got a headache browsing through the site for an hour… then again who the fuck would browse through CrazyForFeet.com for less than that?
I mean, we are all here to talk about the foot fetish porn and all that jazz, right? If that's the case, that means that we are here to browse through, read the posts, talk to the community, etc. So having a design that will not make my eyes bleed would have been so much better. Other than the red background and the white background for the actual forum, I do not have many other complaints about the design.
Do I think that this design is better than some others that I have seen? Of course I do not. I think this design is much worse than most others I have seen. But, it still looks very typical, the content and all that is free, so you cannot complain too much. I can complain because I prefer to pay for higher quality content instead of free.
Anyway, browsing through is a breeze. Just scroll through all the threads on the homepage, pick whatever the fuck fancies your interest, and you are good to go.
Lots of threads and foot fetish.
If this is your first rodeo with these sorts of sites, then you might be confused. However, the threads that you see on the homepage are basically your search options. You should scroll through them to see what CrazyForFeet.com actually has to offer. There are no categories or none of that typical crap you would see on other porn websites. If that is what you were hoping for.
CrazyForFeet.com is pretty simple. The homepage has a bunch of threads with self-explanatory names. If the name is confusing, you will have a legit description of what that thread offers below it. The first couple of threads are the most recent topics. Then you come down to the beginning of the forum, where the first thread are the rules.
If you plan to contribute to the overall website or enjoy the features in general, you should definitely read the rules. The rules are all very straightforward if you ask me, but it is better to read the rules than to end up getting banned from the website instead. After that you have the news thread, where you can read just that… all the news regarding the forum.
Then there is a section where you can introduce yourself, so if you are new to CrazyForFeet.com… that is where you should go first. The introduction section is filled with many new users sharing their love for feet and why they decided to become a part of CrazyForFeet.com. There is also a section for comments, suggestions and help.
After that, is where the real fun begins! After the forum section of threads you have the porn section. Here you will have threads dedicated to feet and shoe play, footsies and foot jobs, celebrities' feet, and so on. If you are here to talk about feet, the next couple of threads are designed just for foot conversations, which is also pretty neat.
I mean, when it comes to the foot fetish, you have a little bit of everything on CrazyForFeet.com. The forum is filled with foot lovers, so you can find all sorts of foot fetish related topics, content, and so on. It's pretty cozy.
The community is friendly, but you don't have to register.
If you are searching for a community that loves to chat, well, you have just found her. I mean, most forum sites will have a talkative community, since that is what this is all about. Though I have to state that if you are here to watch the content immediately, CrazyForFeet.com is not a good choice. Sure people love to share their naughty stuff, but you will often be required to download the content before you can enjoy it.
If they share videos, galleries, or any of that, they will provide a link through which you can download the content. The content is often free to download for those who have all the time in this world. I mean, the downloads are done through other sites, where you often have a free option if you do not mind waiting a ton to download each video. Or you can pay for faster downloads.
If you are just here to talk, there is literally a thread dedicated to just that. There you can talk about your first experience, what you are searching for, or you can ask people about their experiences. A lot of people on CrazyForFeet.com love to talk about their real experiences and some like to make up the stories.
You can even talk to the community if you want, but for that you will have to register. The registration to CrazyForFeet.com is free, and also optional. If you are here to just enjoy the content overall, you do not have to register. Everything that CrazyForFeet.com has to offer is free, but you cannot interact with the community unless you register. I mean, most forum sites work in the same way.
So what are you here for? If you just like to read and check out the content others are posting, you are free to do that as much as your cock desires. If you were hoping to interact with the community, talk, share your own content and experiences, then you should register. The registration is free and simple, just click on the registration option on top of the site, and you are good to go.
Final thoughts.
If you clicked on this review or site expecting something else, I am not sure what to tell you… that's a lie, I know exactly what the fuck to tell you. CrazyForFeet.com is not the only site like this, there are many foot-fetish forum sites you can check the fuck out and I have reviewed many of them. I have also reviewed porn tubes, chatting, and other fetish sites that you can check the fuck out if you just visit Fetish Porn Sites.
So if you are not happy with CrazyForFeet.com, just check out a different site I have already reviewed. As for those who love to talk about their foot fetish and enjoy free content, I am pretty sure that you will enjoy your stay at CrazyForFeet.com.
Free foot fetish content
Community that loves to talk about feet porn
Registration is optional
Some ads
The design is a bit annoying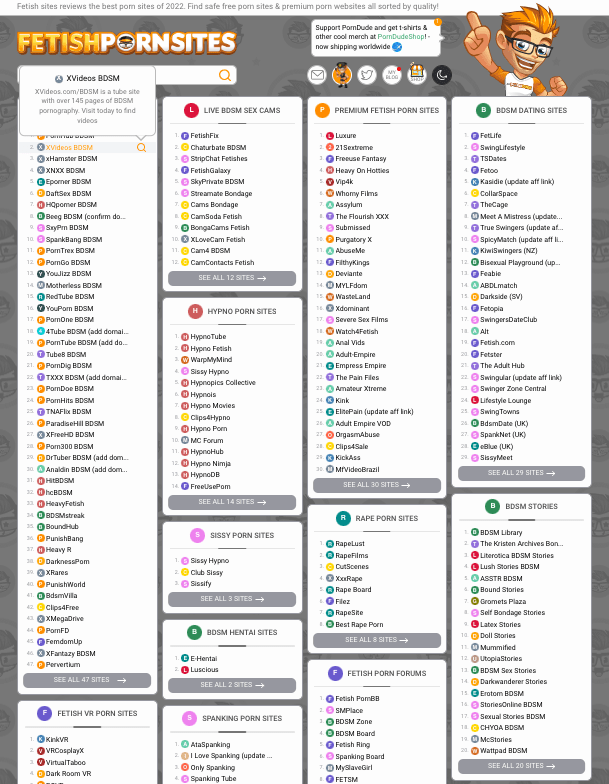 34+ Feet Porn Sites LIKE CrazyForFeet