Show
34+
sites like

WikiFeet X

:
WikiFeet X
Wiki Feet X! What's up, beautiful freak! I'd like to take the time to remind you never to be ashamed of your kinks! It's your god-given right to be as filthy and depraved as you so feel! Don't let anyone shame you for being the freak you are! (Unless you're into that…) Today, we're celebrating perhaps the noblest of fetishes. It's the kind of fetish you'd be comfortable telling your mom about. Today, we're talking about feet.
Try walking into any social situation and admitting that you love it when a girl sits and pisses on your face. You'll soon be looking at an empty table as, one by one, everyone finds an excuse to leave. You'll have just decreased your list of friends as well as the respect of everyone around you! "Oh my God. Did you hear what he said the other day? He just started talking about how he likes girls to piss on his face. Why the fuck would you say that in public? What a freak!"
Try walking into any social situation and admitting that you have a foot fetish. You'll receive nothing but laughter and admiration. "Oh my God! That's so weird! Haha! Touch my feet!" Who knows what it is. A foot fetish somehow indicates class. Sure, everyone knows you're a freak, but you're not a disgusting freak. You're a cute, harmless freak who appreciates the feminine form. Quinten Tarantino straight-up references his foot fetishes in his movies! Never once has he been shamed. Instead, people wonder, "Maybe I should try this foot fetish thing". (For the record, having a foot fetish will not make you a world-class movie director.)
The foot fetish has become such a recognized and accepted thing, that there are public sites dedicated to archiving the feet of celebrities and notable public figures. And guess what? Everyone is just OKAY with it. Even some of the Celebrities! Imagine someone openly fetishizing your body and thinking, "Well, it is what it is". Someone is busting nuts to your feet! Haha! Well, that's pretty fortunate for me, because I just so happen to be one of those people! And there are millions of men (and women) all around the world just like me and you!
wikiFeet X happens to be a place where noble freaks like us can congregate and enjoy some of the finest material of our choice.
How it started
It all started in 2008 when an Israeli hero decided that he would create a platform to store pictures of celebrities' feet. Of course! Why have the pictures of feet from just anyone when you can have pictures of Madonna's feet!? The site kept growing, gaining hundreds of thousands of new users every year! It got so big that, in 2018, a breakaway site was created to feature men's feet! It was great news for the ladies and the homosexual homies!
Eventually, there was an increasing demand for content that was a little… raunchier. Of course, there was! People will always want more! I'm one of them! In the same year, wikiFeet X was launched. In order to keep the original site 'family-friendly', the developer created wikiFeet X to feature pornstars specifically. Now we have a place to look at the picturesque photos of feet AND pussy!
Simple and sexy
You've gotta love a popular site with an old-school layout. That's always an indication that the developers really care about their service. If you run into a site in 2022 that looks like it was made in 1999, chances are, you're about to see some fucking phenomenal content! wikiFeet X is one of those sites! One Hero. Millions of HD photos of the sexiest feet in the world.
There's no real color theme to the site. It's about as basic as basic comes. Black background with white text. Why the hell would you need anything more when you've got content for the fucking ages? When you land on the site, you'll immediately see a collection of models worthy of a yearly calendar. On the right-hand side, there are two sets of random galleries. So, you can try your luck and see if you fall on a lady you're willing to simp for the rest of your life. Underneath the random galleries, you'll find two more galleries of featured models.
Today, I got a good look at Shannon Steward and Miss Rose Heels. I mean, a really good look. Those photos were just out of this world. And the feet on these angels. You can be sure my cock was starting to stand to attention! On the left, you'll see galleries celebrating the models' birthdays! You can view their gallery and give them a celebratory five stars! Imagine knowing that there are at least a few thousand guys jacking off to your feet on your birthday. Every birthday. Today, I was one of them!
Below, you can find a banner containing the latest videos. Although, they may not be what you're expecting. On the left-hand side, you have the option to choose one of a few links. Click "Celebrities" to see the entire list of models with high-quality photos, sexy enough to bust your nut to, and classy enough to print and hang up on your wall. There's a search bar at the top of the page for you to look for a certain celebrity. You can also alter the search page by applying various filters. If you've read my blogs before, you know I'm a sucker for options. Here, there are a lot of them. You can filter the models on the search page by name, popularity, shoe size, birthplace, birth date, and rating!
The world is your oyster! You've never experienced the freedom to enjoy such fine content like this. I bet a part of you is expecting me to tell you the catch right about now. Well, that's the thing. There is no catch! You get all this fantastic content with absolute access for absolutely free! That's right! And what's more, there's a whopping total of ONE ad on the site. There's an awkwardly placed banner at the top of every page with one video "suggestion". The thumbnail is usually some girl in a reverse cowgirl position, taking a huge cock, but that's not what you're getting. The link will take you to one of many random sites. It's a pretty awkward thing to have on a damn near-perfect webpage, but I guess the ad revenue is worth it.
The sexiest feet in the world
If you're a big feet guy, you're going to want to bookmark this wikiFeet X to your browser. In fact, after a couple of days on the site, you're going to want to tattoo the fucking logo on your back! You can't get much closer to perfect content than this. All of the featured models on this site are fucking phenomenal. Each and every photo is worthy of being framed and posted on your wall.
You're not only getting the finest feet in the highest definition. You're getting a poster-grade full portrait of a beautiful babe spreading her legs in front of a sky blue ocean. Yeah, you're getting THAT kind of content for free. I'm so impressed by the artistic nature of these photos. I mean, sexy feet were just enough for me. With all this quality, my cock feels like royalty. My cock should be wrapped in a silk bathrobe, floating through a castle made of clouds. And this experience comes at absolutely no cost! Well, I guess the one cost is that your lucky ass will be spoiled for life!
There is also a collection of videos for you to browse for free. It's a little weird though. They're not exactly videos dedicated to sexual feet play. They're more like accidental porn — YouTube videos of girls obliviously giving the world fap material. The videos are worth watching if you're a man of culture who truly appreciates the finer things in life. You really are the noblest of pervs!
What I liked
This is some of the best feet-related content on the fucking web. Each HD photo of the models is classy and sexy enough to get my little guy excited. I mean, sure! It would be something to see a collage of sexy feet covered in strings of cum. But, this site is a bold expression of the finer things in life. It ticks all the boxes. Picturesque, simple, and sexy.
What I didn't like
There is really not much to dislike here. Aside from the awkward banner ad, the site is damn near perfect. Although, it wouldn't hurt to see more videos in the video section. Sure, it might be enough for the most cultured among us to appreciate. To the average guy though… there's nothing really note-worthy
Tips from ThePornDude
I was thinking of suggesting content that's a little more… explicit. But then I realized that not everyone is the same kind of twisted freak as I am. The type of content is fucking perfect. For the average feet guy, this place is heaven. If someone wants to see something more 'exciting', there are literally millions of sites to find it. But this. This is a place of culture.
My only desire is that there were more videos in the video section. As of now, there are only 33. I want to be able to choose from many, with as much choice as the galleries. There's only one guy behind this site. So, my request is as humble as they come.
Conclusion
wikiFeet X is THE place to be for the foot fetish connoisseurs of the world! You can experience mind-blowingly sexy photos from some of the hottest pornstars in the fucking game! If you've got a thing for feet, this is where you belong. You'll be home among many just like yourself. This is the kind of porn content that would make your fucking mom proud! Bon voyage, thy noblest of pervs.
Millions of free sexy galleries
Free HD photos
Daily uploads
No ads
Gorgeous pornstars
Must log in to YouTube to watch videos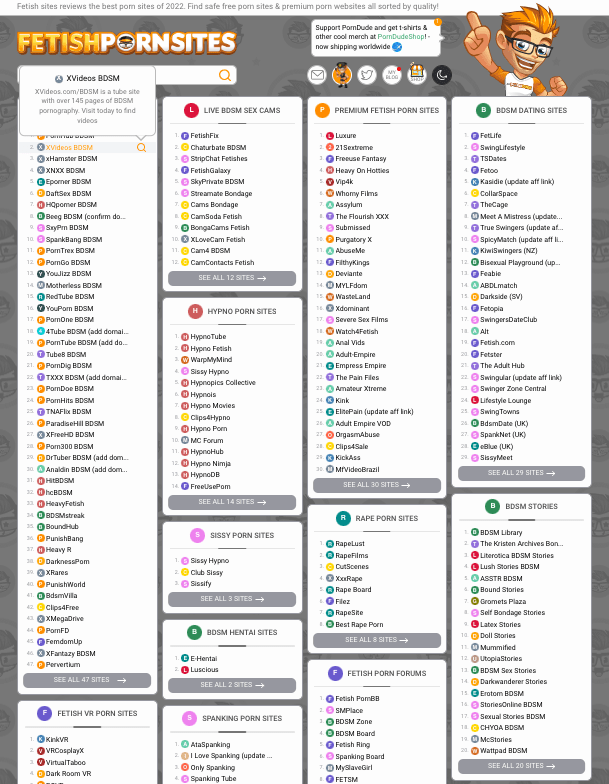 34+ Feet Porn Sites LIKE WikiFeet X