Show
34+
sites like

Feet.wiki

:
Feet.wiki
I was doing research on Feet Wiki all morning, and while I didn't learn as much as I do when I'm nerding out over Wikipedia, I did fill up an old gym sock with sperm. It's kind of a fitting place to put my spunk given the theme of the joint, though most of the girls I was gawking at were barefoot and beautiful. As I cranked my shaft, I wondered if I should switch careers, maybe go into podiatry and touch tootsies all day. Once I achieved that post-nut clarity, I realized that a foot doctor probably sees a lot of ugly feet with weird conditions. I guess I'll keep my job as ThePornDude and just jerk off to pics of the world's prettiest feet instead.
As anybody with more than two braincells could guess from the name, Feet.wiki is a celebrity foot database full of pictures of sexy, famous feet. It doesn't get as wordy as the other big Wiki people are familiar with, instead filling up the space with fapworthy images of their focus extremities. The site gets a couple hundred thousand visitors every month, which tells you a lot about the masturbatory possibilities inside. With that in mind, I lubed up my silicone foot sex toy and started clicking around.
Fapping to Feet on the Feet Wiki
First things first: Feet.wiki isn't actually a wiki. Wikipedia.org is the original that everybody knows about, but there are a million lesser wikis devoted to everything under the sun, from videogames to movies to sandwiches to My Little Pony. They're encyclopedia-style sites, many of them built on the exact same software as Wikipedia. Feet.wiki, on the other hand, is actually a blog running on a basic WordPress theme.
Of course, a celebrity foot photo archive doesn't necessarily need all the bells and whistles of a traditional wiki. The only real downside I could find to the setup is pretty trivial: the popular celebrities have their pics spread across multiple posts, instead of being lumped into one central location like you'd expect from a wiki. For example, I did a search for Ariana Grande and found nearly twenty posts. Most of them have a single pic, but I did have to take a break from writing to more thoroughly enjoy a gallery with 39 shots of Ariana with her pretty feet exposed.
The bigger implication of the blog-style delivery is that there's currently no central index of celebs to peruse. This shouldn't be a dealbreaker for anybody, since the search function works perfectly. Besides, you'll start seeing fapworthy photos the very moment you land on Feet Wiki, at least if you've got a foot fetish. All the latest content is out front, plus there's a dropdown menu with quick links to some of their more popular babes. I couldn't help noticing that menu currently includes Gia Derza (197 foot photos) and Savannah Bond (61 shots), both of whom I got to know intimately over at PornDudeCasting.
I like the definition of "celebrity" they're using here. Mainstream celebrity sites, the ones that ain't designed for masturbation, tend to stick to the famous movie stars, musicians and models you see on TV. You'll find them here, too, but you'll also find a fucking ton of the video whores you're already jacking off to. The stash includes actresses, models, musicians and plenty of pornstars. On a whim, I searched for Alexandria Ocasio Cortez and found a handful of posts, so politicians are fair game, too. Known female figures are all celebrities according to the wiki, which is exactly what I was hoping for.
That's a Whole Lot of Feet
One of the things that put the original Wikipedia on the map is that it's crowdsourced, meaning anybody could add to it. Wikipedia has tightened the restrictions a bit since they started to prevent abuse, but the site is still growing at a crazy rate. Feet.wiki doesn't have the same everybody-welcome setup, but whoever's running the place is clearly a busy foot-loving pervert, because the site gets a ton of fresh posts every day.
I'm reviewing the site on a Tuesday afternoon. So far today, there have been around 40 new posts covering the entire front page and some of the second. The very latest includes 17 photos of Jessica Day, the pornstar not the New Girl character played by Zooey Deschanel. (Zooey, in case you were wondering, has also been featured in a handful of posts, wearing slides, heels and barefoot.) Other babes to show up on Feet Wiki today include Jezabel Romo, Lilly Sapphire, and the voluptuous Katalina Kyle. I wasn't familiar with Katalina before today, but the pics come from Jules Jordan, and I'll definitely be looking for her videos later.
All of today's posts are adult film stars, as denoted by the XXX tag stamped on the thumbnails out front. In fact, I had to dig through 10 days' worth of updates, 15 pages, before I found a batch of posts labeled as Famous Feet. Anne Hathaway, Eva Longoria and Bella Hadid are among the more traditional celebrities recently featured on Feet.wiki. The post types do seem to come in groups, so you'll find page after page of XXX celebs followed by page after page of Famous Feet.
The very first post on Feet Wiki was an 11-photo gallery of pornstar Lucky Benton, posted back in June 2021. Since then, there have been more than 60,000 posts of beautiful women and their gorgeous feet. Most of the posts are galleries with at least a handful of pics to shake your dick at, though the Famous Feet posts tend to be a little lighter, sometimes with just a single image.
In this humble masturbator's opinion, the best posts of traditional famous chicks on Feet.wiki are the ones labeled Celebrity Feet In The Pose. These ones have a lot more photos, like one post with 129 shots of Haley Ferguson's feet, another with 137 of Alex Curry, as well as a mouthwatering 139 pics of Lameka Fox's feet.
The celebrity selection is worldwide, instead of just focusing on famous American women like many celebrity sites do. One minor downside is that you might not recognize a lot of the women because they ain't famous where you live, but trust me, they ain't posting ugly bitches with nasty feet. I may not know who Sanjeeda Sheikh is, but after seeing a few photos, I think she'll be making an appearance in my fap fantasies.
Whose Feet Are You Gawking At?
I know that one of Feet Wiki's biggest gimmicks is all the famous women on the site, but you know what? It's a killer site for anybody who likes pretty girls and their feet, whether you recognize them or not. There's great stuff posted every day, and the header has some quick links to some of their more popular posts like Nathaly Cherie, Mia Melano, Kyler Quinn and Abbie Cat. They're all fucking gorgeous and easy to beat off to, and the photos all show their feet.
At the end of the day, that makes Feet.wiki a really easy site to recommend to anybody with a foot fetish. It's a little old-school in that they're dealing in photos, rather than the modern marvel of 4K video, but they clearly ain't hurting for traffic. (Incidentally, I've been getting some 4K footjobs over at PornDudeCasting. Just sayin'.) If you're the type of guy who cranks it to pictures, you're going to love this.
Oh, and there's nothing to get between you and those pics, either. With my adblocker running, I didn't see any spam at all as I was browsing shots of perfect arches, feminine soles and pedicured toes. Free sites tend to be spammy, especially ones that deal in any kind of niche or fetish. These guys would get visitors even if they brought out the spam cannon, but they respect you too much for that, and I respect them for that.
It's a little ironic that I've spent this many words telling you how nice the site is, because Feet.wiki itself doesn't really have a lot of words. Instead, they just hook you up with plenty of those celebrity foot photos you were looking for. Are you even still reading this?
Celebrity foot photos galore
A nice range of actresses, musicians, models and tons of pornstars
Lots of new content added daily
60,000+ Posts so far
Minimal spam
No central index of celebs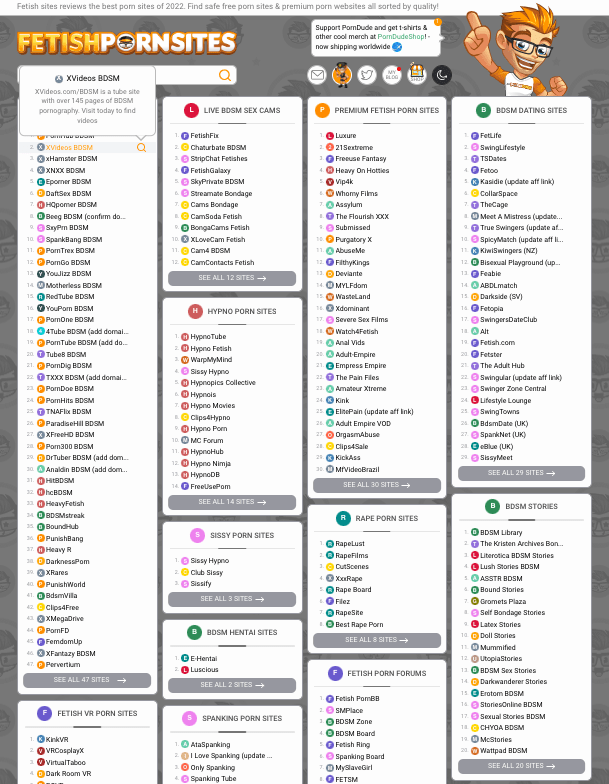 34+ Feet Porn Sites LIKE Feet.wiki