Show
34+
sites like

FeetPorno

:
FeetPorno
Feet Porno! What's up, you sick perv!? Today, we're going to be talking about the noblest of fetishes. The kind of fetish that you can admit you have in public and no one will recommend you to a shrink! The kind of fetish that would make your mom giggle and your dad proud. That's right! We're talking about the good old foot fetish. The one thing you share in common with legendary director, Quinten Tarantino. (And no, that does not mean you should start making movies!)
So, you want to find a new place to jack off to some feet, huh? Well, don't worry. Good old PornDude has got you covered! There are plenty of places for you to indulge in all kinds of sexy feet content. You can admire the classiest feet pics of the hottest celebrities or you can go to the depths of the internet to see a bitch's cum-covered feet rammed down another bitch's throat. There are multiple levels to the foot fetish from the classy, to the kinky, to the downright depraved! So, what are you in the mood for today?
If you're looking for some sensual and sexy feet action, I've got a treat for you! Feetporno.com has a collection of the sexiest HD foot porn uploaded by dedicated users of the platform. There are hundreds of exclusively HD videos with hundreds of gorgeous women and hundreds of gorgeous feet! Here, you can choose from a large selection of sexy and creative content that the most dedicated feet freaks approve of.
If you're looking for some foot content, raunchier than your favorite influencer's Instagram photos and classier than what you'd find on Motherless.com, you've come to the right place! You're about to have a damn good day, my friend!
Face Full of Sexy Feet
It's not every day you come across a niche porn site and aren't immediately overwhelmed by a barrage of obnoxious ads. Feetporno.com provides a breath of fresh air with a front-page filled with nothing but thumbnails of some of the sexiest feet you'll see in a long time! From one side of the page to the next, you'll find nothing but feet! While most sites follow the "white space" rule of thumb, feetporno.com chooses not to have ANY borders on its page. The page is stacked full of videos for you to choose from. And guess what no borders mean? That's right! No ads!
On feetporno.com, you'll find no banner ads, no pop-up ads, and none of those infuriating invisible ads that take you to some random product page on fucking Alibaba! On the front page, you'll see a collection of the most viewed videos on the page. So, you can take a quick look at the videos that collected the most buckets of cum for the day! Below that, the page is filled with a list of featured videos. Just hover over the thumbnails for a quick preview of the action! I can always appreciate when a site cares enough about you to save time. That's a good indication the developers are proud of their content!
At the top of the page, there's a fancy search bar that provides a drop-down list of three filters: Videos, pornstars, and albums. Choose a filter, type what you want to see, and see if you get lucky!
Underneath the search bar, there's a neat little navigation bar. This site cuts the fat by providing seven links for you to navigate. There are no needless or redundant buttons to get confused by. The "Video" button provides a drop-down list of options to filter the page by. The "Categories" button provides a drop-down list of categories with thumbnails for each category — you can also choose to see the full page of categories! The "Porn Pics" button takes you to another website where you can look at pictures of some REALLY sexy feet content — expect to see VERY little clothing!
Seductive and Sexy
Feetporn.com has an impressive collection of hot models with even HOTTER feet. I know! Hard to believe, right? Well, believe it! Not only that, but you're going to see some of the most creatively sexy feet porn you'll ever see in a long time! From cute Asian sluts giving mind-blowing footjobs to HOT latex solo action with feet that will make you fucking salivate!
There's an amazing variety of models here and an even more amazing selection of categories. And by amazing, I'm not talking about the amount. If you've read any of my blogs, you'll know that I love me some options. My dick is always hungry for every type of content the world can offer! However, there are rare occasions where less is more. This happens to be one of those occasions! There isn't a novel's worth of categories to choose from. But the few that are there are some seriously creative categories! Footporno.com really chose quality over quantity here.
I spent a large part of my day browsing through the hundreds of videos for each category. The "crushing foot fetish" category will raise the cocks of even the most hardcore masochists. Of course, there's no blood, haha! This isn't THAT kind of site! The people of feetporno.com clearly prefer sensual and classy over depraved and shameful! That doesn't mean that you won't see some heart-pumping, ball-busting action!
Did you know there was such a thing as a "smelly sock" fetish? Well, if you're a veteran like me, that might sound familiar to you! Feetfetish.com has hundreds of the sexiest videos in one of the least sexy sounding categories ever! You don't think a smelly sock fetish could be sexy? Go on! Try it for yourself!
Under each video, there are snapshots of different parts. That means you won't have to skip through to try to find the parts that you like! You can just take a look at the part that you think you'll get off to the most and start from there! You should really take your time though. These bitches took a lot of time and effort to get you off! The least you can do is jack off to the WHOLE video!
What I Liked
Every single model on this site is sexy as hell with even sexier feet! There are some really dedicated users on this site! I can't imagine the amount of time put into finding all of these top-tier feet content. I haven't had this much fun in a long time! Not to mention, all the videos are of the highest quality with literally NO loss in streaming quality! And what's MORE, it's all absolutely free! Aren't YOU a lucky son of a bitch! I know I am.
While I tend to prefer a list of categories larger than the size of my cock, I'm really impressed by the options provided. Until today, I didn't know JUST how sexy the "dirty shoe" fetish really could be. I mean, what's sexy about dirty fucking shoes? Sounds like the least sexy thing ever, right? Wrong! The dirty shoe category on this site will have you cumming in minutes! You won't even know what happened!
What I Didn't Like
While I was happily browsing these amazing videos, I came across one that I thought I might end the night with. To my cock's disappointment, the video was fucking broken. To add insult to injury, there was a fucking video ad I had to wait for JUST to find out! My balls were bluer than the fucking sky! Why the fuck would you keep a broken video amongst all of this fantastic content? Do you want your users to lose their cocks? All this blood to my cock isn't supposed to just stay there you know? If my balls get that blue again, I might just have to chop them off!
Another thing. You don't need to have TWO links to cam sites. Once someone goes on a cam site, you can be sure they're not going anywhere else for a long time. Hotpink.com or Chaturbate.com. Pick one. If I wanted to choose between the two, I'd just use Google search! I'm also not sure what any of those sites have to do with feet! I mean, the least you could do is redirect users to the "feet'' category of the site. Unrelated content really sucks.
Tips From ThePornDude
Under each video, there's a neat little list of tags. You can click on one of them to find videos that have that tag in them too! The thing is, it would be really nice to have a specific section of the site dedicated to JUST the tags. I respect that you chose quality over quantity with the category section. But, having a dedicated tag section where you can pick multiple tags at a time will fill in all of those extra categories my dick so greatly craves.
Also, get a better color scheme. Burgundy, black, and white? What the fuck? That's gotta be one of the least sexy color schemes I've seen in my life! You're almost ruining a perfectly good site with ugly colors! Who the fuck thought burgundy was a good color for a foot fetish site?! I could think of a number of sexier colors right now! Violet. Peach pink. Black. Literally any shade of red. What the fuck were you thinking??
Conclusion
Feetporno.com is a great find for foot freaks everywhere. It's the perfect balance between classy, sexy, and sultry. Tired of teasing your dick with Instagram photos? Still dealing with the guilt from busting a nut to that fucked up video from earlier? Feetporno.com is ready to provide you with some of the sexiest videos from the prettiest feet you'll see in a very long time. Like I said at the start, you're about to have a VERY good day! Have fun, you animal!
Free HD videos
Free HD downloads
No ads
Unique categories
Some videos are broken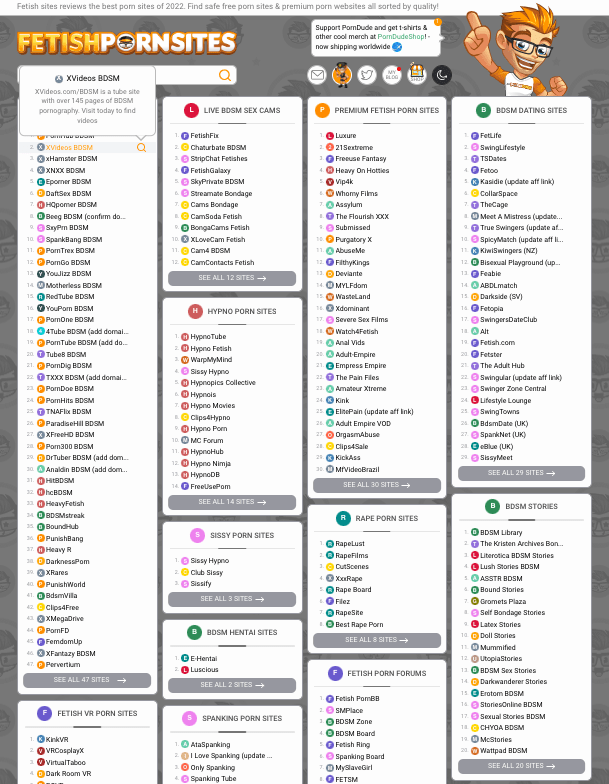 34+ Feet Porn Sites LIKE FeetPorno