Show
34+
sites like

PornHub Feet

:
PornHub Feet
PornHub is a fantastic and one of my go-to spots in cyberspace for my research. And also as a way to blow off steam, so to speak. And since I am describing and rating foot fetish websites, this one had to be on the list as well. While I do have a bias in favor of this, I will be comparing it to other tubes to be somewhat objective.
Let's Run The Numbers First
Alright, before we get into the best examples of foot fetish porn on PornHub, I want to focus on the abundance of this erotica type on this tube compared to others.
In all cases, I punched in 'foot fetish' into YouJizz, Aloha Tube, and Eporner and compared search results, all because they are relatively popular rival tubes. The first yielded a little over 18,000 relevant returns, the second hosts around 22,000 videos, and the last only has about three hundred movies.
Also, known of them host any form of picture porn or GIFs.
For comparison, Porn Hub has almost 48,000 videos when you plug 'foot fetish' into a basic search. There are a few pictures, with twenty-two hundred results and an impressive 92,000 GIFs! You can get twice as many results for videos on other tubes, but the quality is not always the same. Porn Hub's footie fap films, like all other results, all come from verified users. This means that whoever has posted the smut owns it, and they often are rendered in high or ultra-high quality.
Strangely, the Pornstars filter, when paired with the aforementioned search term, only yields two results, both of which are obscure Fetish Fatale and Fetish Fairy Domme channels. Out of curiosity, I checked both of them really are not worth looking at. However, I found several channels which are if you have a fetish for pretty tootsies.
Uploaders To Look For Include The Following…
Since I know that some people prefer professional porn and others favor amateur stuff, I was sure to include a mix of users who are into the fetish of focus. It was a little difficult since there are so many users I could have picked. But for the sake of brevity, here are my official, significant suggestions.
Keokistar – This Estonian erotica performer clearly has a thirst for doing naughty things with her feet because every time you search for foot porn, several of her videos show up on the first page. And boy has she done a lot, and they have been well received. In fact, three of her top-rated videos are all about sexy stuff involving ripe feet.
Those of you who like seeing high-end amateur porn will love these ladies' work. And if you need any additional incentive, she does scenes with a woman, man, trans person, or several people!
21 SEXTURY – To be clear, this is technically one of those artsy erotica producers who create scenes that feature a variety of categories like Brazzers and Twistys. But they release an exceptional amount of foot porn compared to most of the bigger studio smut makers. Babes who are featured in these films include sultry models such as Shalina Device, Kaisa Nord, and Geisha Kyd.
Footsie Babes – Technically, it is owned by the same people as 21st SEXTURY, but clearly has a neat twist for our purposes. As you can no doubt tell from the title, this channel is all about the fetish you favor the most, and the performers do a fine job at it.
With their dozens of uploads, they have acquired tens of thousands of subscribers, a rising rank on PornHub, and almost forty million video views. I do not know what your standards are, but I think that it is a good sign that they are doing something right. And if those are not enough options for you, a few (somewhat) foot-centric channels you should check out are Devil's Kos and Love Her Feet.
The Virtual Reality Foot Sex Selection Is A Little Limited
Perhaps the biggest drawback is the fact that PornHub does not have that much foot-fetish porn that comes in a VR format. In fact, there are only several dozen of them. But to be fair, most other tubes have about that many, if they have any at all.
And to PornHub's credit, their VR foot features have been produced by fantastic porn creators such as BaDoinkVR, PornBCN VR, and Mia Delphy. I am not going into detail about either of those channels, but you really will want to look up those channels as well.
And The Verdict For This Provider Of Visual Vice Is…
Anyone who is familiar with my other work knows that I am a big fan of PornHub. It might even be my favorite tube site., but in the interest of fairness, I am going to be looking at PornHub and judging it exclusively based on its foot fetish porn quantity and quality.
When it comes to this tube, the selection of foot-focused fap footage, running into the tens of thousands of videos, is epic. The lack of pictures is beyond disappointing, but the collection of GIFs is great. In fact, I do not recall another tube having that many graphic interchange formats showing off titillating trotter entertainment, so that makes up for the lack of static picture porn.
Redirects are still an issue, but that's a problem more with the tube, in general. So, I won't hold it against them for the purposes of this review. And the number of foot fetish specialists makes this tube supreme in this category.
Still, I am giving this one four and a half hands out of five.
This tube has tens of thousands of foot fetish films
Typically, the uploads are in decent or extremely high quality
There are several foot fetish specialists unique to PornHub
I think the huge number of footie GIFs is to die for
I was disappointed by the poor amount of pics in this genre
The spam factor is still a problem on this tube sometimes
There are not too many virtual reality videos in this genre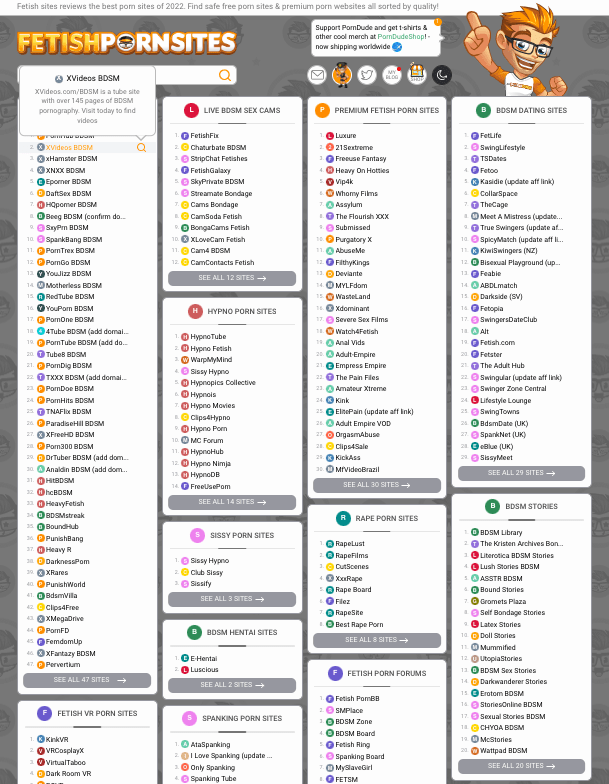 34+ Feet Porn Sites LIKE PornHub Feet