Show
34+
sites like

WikiFeet

:
WikiFeet
Wiki Feet! Hey, what's up, freak?! Hope you haven't broken your dick just yet, haha! Remember to take breaks in between sessions! We don't want you to disappoint all those gorgeous sluts online! Haha! What have you been into lately? I've gotta admit, I've developed something of a foot fetish lately. It's kind of a big thing right now. I've been scouring the internet for all of the best foot porn for days. It feels like I haven't left my damn house!
Foot fetishes are great. You know why? No one judges you for it! Sure, if you like getting shat on, everyone thinks you're some kind of broken degenerate. But, admit to anyone that you've got a foot fetish, they'll damn near admire you. I don't know what it is about a foot fetish, but everyone seems to look at it like an ugly puppy — It's fucking weird, but you can't help but admire how adorable and harmless those little freaks are.
What if I told you that there's a place where the feet of celebrities are uploaded and archived en masse? I'm not talking about a few pictures of feet of people you MIGHT know. I'm talking about years' worth of photos of every single celebrity and high-profile individual you can think of. Yeah, I'm not shitting you! This place really exists!
If you've just developed a thing for feet and you haven't heard of wikiFeet, I'm about to make your fucking day! wikiFeet is a haven for noble perverts all around the world. Here you can look at archived photos of any celebrity you can imagine, and admire those delightful trotters for as long as you'd like. I'm not just talking about your local Instagram influencer. I'm talking A-list actors, politicians, pop stars, Korean pop stars, fucking journalists, AND your local Instagram influencer. That's right! This is the real fucking deal, my friend!
How it all started
One of the greatest miracles of the internet started with an Israeli hero named Eli Ozer in 2008. Eli Ozer realized that he was only one among many feet admirers in the world. So, he decided to create a website dedicated to the admiration of feet all over the world. But, this wouldn't be a collection of feet from just anywhere! No, this would be a collection of feet from only the most successful or (kind of successful) women in the world! Or… at least the ones we know.
Screw trying to find girls slutty and desperate enough to do the most depraved feet stuff on camera. There are sites like that everywhere! wikiFeet was a pursuit of nobility. This was a site that you could jack off to AND be proud to show your mom! wikiFeet wasn't created to be morally grey, like most porn sites. It was created so the "models" of the archived photos could look at the website and think, "Aww… they really like my feet! I'm going to subtly post more on Instagram and pretend that I don't know any better!"
I'm not kidding. Anybody who's anybody knows that, once they're famous, their feet are likely going to end up on this guy's website. Most people have just accepted it (because foot fetishes are cute and harmless, I guess).
As of 2017, the website grew into a huge fucking deal. It had already become a widely recognized website, reaching about 3 MILLION monthly users by 2017. Eventually, it got so big, that two alternative websites had to be created to keep the original from getting out of control. These spin-offs included a wikiFeet for dudes (wikiFeet Men) and a wikiFeet for professional sluts (wikiFeet X. You can read my review for that if you want some REAL fun).
wikiFeet became such a big deal, that it started to become involved in international scandals! In 2016, US congresswoman, Alexandria Ocasio-Cortez was outed for posting a picture of her feet on the internet. While this lady was trying to be a representative for her country, she was being outed as a total slut! (What's wrong with sluts running the country?!) To Cortez's fortune, a dude on wikiFeet noticed that the supposed foot pic of the congresswoman actually belonged to a porn actress — Sydney Leathers! The same bitch who had been sending Anthony Weiner pussy pics in 2013! This bitch's sluttiness almost lost the US a good congresswoman! Haha!
Anyway, enough lore. Let's get into it. This site really is one for the ages, my friend. Oh. One more thing. There were a bunch of EU copyright laws that were put in place for high-resolution photos. I guess they became active in 2021. So, if you're trying to access wikiFeet from the European Union, you're shit outta luck! Sorry about that! (Just use a VPN. You'll be fine!)
Delightfully clean
The site was created by one guy. So, you're not gonna find anything fancy. The website sports a kind of soft grey theme, with splashes of blue. It's not the choice most sites would land on, but it works! It's easy on the eyes. You don't need a lot of distraction from the REAL content, haha!
On the front page, you can look at the various featured galleries. There's a gallery of the day that features a celeb's feet for the entire day. Right next to that, you'll find the lucky gallery of the week. Guys'll be getting off to that lucky broad for an entire week, haha! The front page also features celebrities' birthdays and the most recent uploads.
The links and buttons are pretty easy to find. There's a note from the man himself at the top of the page. Underneath you can find a link to the site's official Twitter account. On the left of the page, you'll find a pretty simple navigation bar. There you can browse through a few options.
The "Celebrities" button will take you to a page where you can browse and search the galleries of (literally) any celebrity in the world. In "Videos" you'll find a collection of YouTube videos displaying some of the most subtly beautiful feet action you'll ever see. The "Feet of the Year" button will take you to a page where you can see which of the celebrities' feet gained the most public favor. The winner will receive undeniable bragging rights of having the sexiest feet in the world!
All the feet you can imagine!
Where the fuck do I even start? Think of a celebrity — literally any celebrity that comes to mind. Type that name into the search bar. You'll find AT LEAST 30 pictures of her with her feet out. Katy Perry, Rihanna, Oprah Winfrey, Angela fucking Merkle (if you're into that)!
These aren't just bummy grainy photos either. Every single picture here is high-resolution. The curators of this content took great care to only include the best type of content! And guess what else! It's all completely fucking free! That's right! All this high-profile goodness. It's absolutely fucking free. You get to enjoy the feet of girls that could buy your neighborhood, for absolutely free!
What I liked
I liked pretty much everything about this miracle of a site. There is nothing but HD photos of all the high-profile girls in the fucking world. Not only can I ogle at the feet of Madonna, I can rate them out of 5! Each celebrity receives a star rating out of 5 from every user that views their gallery. So, if a celebrity ever feels the need to see how people would rate her feet, you have the chance to make her day!
I fucking love that all of this is free. There are sites out there that charge premium subscriptions for a terrible site experience. This is truly one for the ages. I could sing wikiFeet's praises till the fucking sun comes up!
What I didn't like
There was nothing I didn't like about this site. It was as close to perfect as you can get.
Tips from ThePornDude
If there is anything that I would suggest, it would be to add filters to the video section. There are currently over 1600 pages of videos to enjoy and no way to filter through them. I could just go on a random page and try my luck, but I don't just wanna get lucky. I want to see if I can find my favorite female YouTuber's feet, haha! It would be helpful to have a "search by" function. That way, people can more easily enjoy the videos on the page.
Conclusion
wikiFeet is the foot fetish site to end all foot fetish sites. Why would you want to degrade yourself by jacking off to slutty feet being covered in ropes of cum, when you can admire the pure feet of fucking Lana Del Ray!? wikiFeet's unique celebrity feet content is truly one of a kind. This is the site for the noblest of pervs — true men of culture. To those among us who can appreciate the beautiful intricacies of the female form, I speak to you! Welcome home!
Daily Uploads
View galleries for free
Free download and sharing
No pop-up ads
Can't filter videos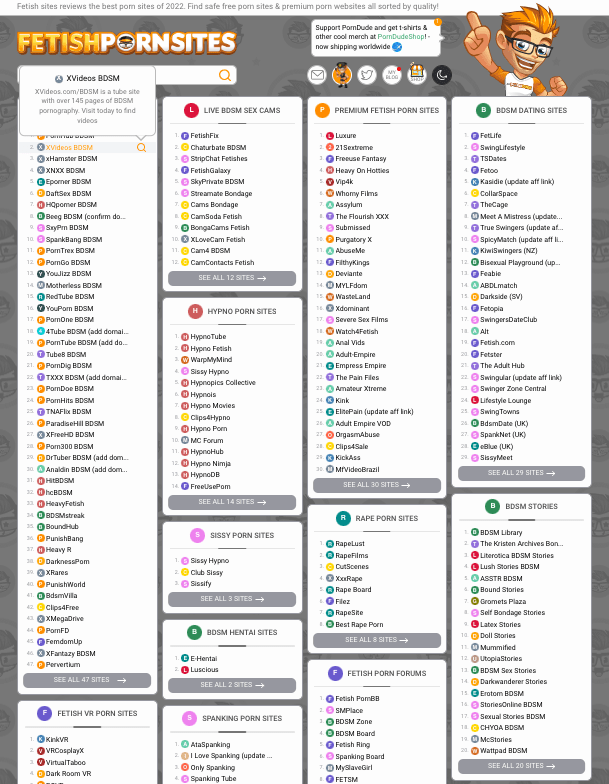 34+ Feet Porn Sites LIKE WikiFeet