Show
34+
sites like

PornPics Feet

:
PornPics Feet
Here we go again – ThePornDude is reviewing a fetish he knows nothing about. Why am I talking about myself in the third person? Fuck you, that's why. Cool people refer to themselves in the third person, or so I've heard. PornPics' feet section is currently on my reviewing chopping block and boy I'm going to be chopping it six ways to Sunday with every tool in my arsenal. We're going to figure out, you and me, together, whether this site is worth your time. Clearly, since we're talking about feet and all, this is a fetishistic review for a fetishistic section of an otherwise generic porn site. PornPics cast a wide net. They want to cater to everyone. Lord knows they have the content to back up the efforts. The real question here is whether or not they have enough feet content to actually justify a section for this kind of smut. Spoiler alert – they're doing a pretty damn good job all things considered.
My cursory preview of this section revealed a ton of feet. Imagine that. I really wasn't expecting to find this much properly dedicated foot fetishism content on PornPics. I've known the site well in the past, but I come here for the ass and the pussy. I didn't think that feet were such hot shit. Then again, if you don't have the fetish, you don't really notice the feet as well as someone who's out on the prowl with a mission to find soles and toes. Now that I had incentive to look for the feet, well, I found them in droves. I did notice that there were a few tricks being played here and there in terms of the presentation of the content and I'll get into that down the line. Suffice it to say that if you're looking for high quality static images of feet, you've come to the right place. PornPics' feet section is absolutely busted with content.
Why Do You Fap to This?
So, it's come to this. I'm making fun of your fetishes, yet again. One might ask oneself – why do I even run a review site for fetish smut? Because I'm unstoppable and I promised the Eldritch gods that I wouldn't cease until every porn site has been properly reviewed by yours truly. This is my destiny. I must scrape the bottom of the fucking internet until there's no stone left unturned and no porn website left unreviewed. Now can we talk about how masturbating to feet is kind of strange?
Think about it, you've got an entire woman in front of you, she's got ample holes for the conquering and presumably some amount of ass and titty to ease your struggles and soften the pain and you go for her fucking feet. Why? You can't stick your cock in them, you can't stick them in your cock and there's really no fun way to combine them with any part of your body save maybe your tongue – but that's slave play. That's you making the chick feel good. What about you? What do you get from the foot play? I might never understand you fucks. Plus, I happen to have it on good authority that foot fetishists get turned on by the general shape of the foot same as how I like the shape of amazing breasts. This baffles me to no end. I'm supposed to be Mr. Pornography here and even I am sitting here bamboozled by what some people consider hot pornography.
The Infinite Supply
You may or may not have heard, but PornPics is a marketing oriented dumping ground that invites free content to come in from any porn studio that wants free exposure. In return, the site gets free smut and people such as yourself get to fap for free. It's a really nice system. Naturally, you only get the pictures, even though the actual scene was a recorded movie or clip. You get a high-quality library of previews. On the one hand that's more than enough content for you to fap to, on the other it's a great way to incentivize you to consider a premium subscription to the original studios that made the content in question. It's a very natural system of supply and demand and it comes with an implied bonus of near infinite content coming it automatically every single day. It's fantastic.
This makes the smut supply nearly infinite, though today we're only looking at the feet pics and that does muddy the waters a bit. There isn't a nearly infinite number of feet pictures on here, but the next best thing will suffice. I am confident that you can't get through all of these images in one lifetime, though I have no way to prove it since there is no pagination – the galleries auto load when you scroll down. It certainly feels like infinite smut, what can I say?
Feet vs Classic Smut
If you're especially astute you might notice what's been done on PornPics to accommodate to the foot fetishists. There's a bit of a trick going on, but I don't fault them for rolling with it. It's actually quite ingenious. If you haven't browsed this site before you should know that the main page shows you a single image from a gallery that you can view in full if you click through to it. You don't see multiple images of the same set unless you open that set. Well, the sets don't exactly feature the same image over and over again. They're galleries. So, they have the babes in different poses and sometimes even different outfits. In many of them there's a gradual striptease, some of them feature toys and so on. It's all photography taken from proper smut videos, so this makes sense.
When you browse PornPics through the feet category exclusively, you see a ton of feet pics, naturally. However, those pics might be a part of a set that has nothing to do with feet, or they might be a part of a set that is exclusively made for foot fetishists. You have no way of knowing until you check out the actual gallery in full and figure out what's hiding within. This means that whoever is doing the curation for the site is either manually or automatically showing the most relevant photo from the set for the purpose of the topic at hand. In this case, that topic is feet. So, one way or another, someone or something is sorting through a near infinite supply of static images for you in order to find you the most fap-worthy feet pics from across the web. This is a neat system.
PornPics is Law
Unlike most other suppliers of free smut, PornPics do not compromise when it comes to quality and resolution. Yes, I am aware that technically, these images are available in an even higher resolution and all that, but if you're giving me unbridled free access to HD Jpegs, I consider that to be the cream of the crop. I don't go at my smut with a magnifying glass. I fap to it. HD is what I need. It's what I want. That's also exactly what I get on this site. I'm more than satisfied, all right? This content is absolutely fantastic.
I don't know how excited foot fetishists get when it comes to details on the actual feet, but if you give a shit, well, the details are quite visible on PornPics. The images are extremely well shot, using professional photography cameras. These aren't video screenshots. They're proper photography like we got in magazines back in the olden days. You could print these out and hang them in your bedroom if you wanted. They're damn gorgeous.
I praise PornPics for the quality work they've done in encouraging the proliferation of free high-quality photographs of pornographic materials, especially when it comes to satisfying the fetishists among you. They didn't have to have a dedicated section full of nothing but feet pics, but they went the extra mile. Even in this day and age, certain fetishes don't get the kind of supply that they deserve and PornPics are improving the internet for masturbators worldwide. Consider checking out this smut and if you like what you see bookmark the site as well. Come back for more, day by day and check out what's new in the world of foot fetishism. Keep in mind that most of the content that's pulled onto this site is rather soft in terms of depravity, but the feet are featured nonetheless. So, you won't see any feet covered in cum for example, but you will see sexy feet nonetheless.
Near-infinite supply
High quality smut
Daily updates
It's all free
Smut's pretty tame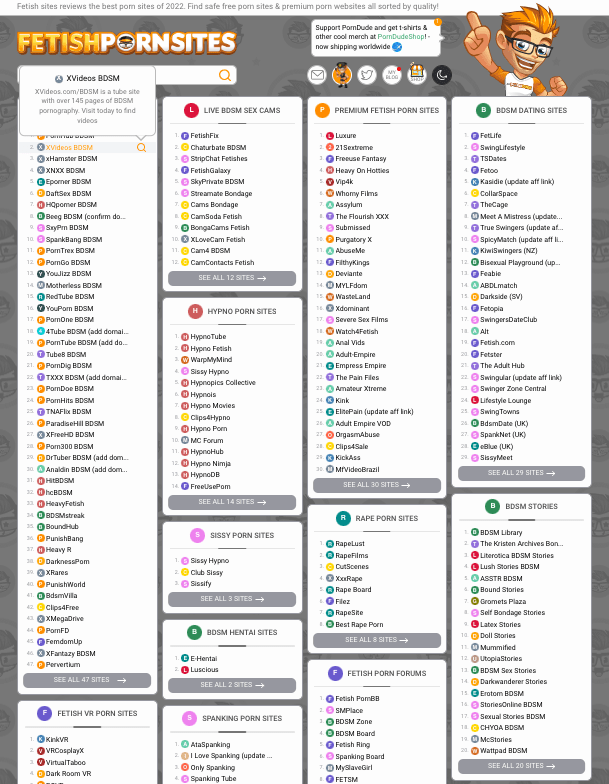 34+ Feet Porn Sites LIKE PornPics Feet