Show
12+
sites like

BongaCams Fetish

:
BongaCams Fetish
Bonga Cams! It's probably not a shocker that I have developed some extreme fetishes over my many years of reviewing and watching porn. When a man has been exposed to as much smut as I have, it changes the chemistry of his brain. The sight of a simple set of tits isn't enough to move the marker anymore. Those tits need to be bound, gagged, covered in gasoline-dipped clothes pins, and set on a flame-like a longboat during a Viking funeral. Now that's what I call porn.
Fortunately for me, the world has a never-ending supply of strange and niche fetishes for me to take advantage of. But, of course, I'm not the only man on Earth with an extreme porn and masturbation problem. What am I saying right now? I'm preaching to the choir.
The problem is you guys don't have as much time on your hands to hunt down new and refreshing fetishes. I'm not sure why you don't have the time, considering you don't have a job, you live with your parents, and the only tasks you complete daily involve eating high-fat foods and playing video games. Regardless, I still have a duty to perform that I take very seriously, even if your guys' lives are falling apart.
Let's peek at some fantastic fetish options out there that you have almost certainly never heard of. Well, two of the most popular porn searches are teens and MILFs, but what about the grandmas of the world? Don't they deserve some love also? People into Gerontophilia certainly think so.
Not everyone can look at grandma's wrinkles and think to themselves, "that bitch is in her prime." It takes a particular human to see the beauty between the lines. You know, someone who an older woman probably diddled at some point. The human mind is cruel to its host like that often. But, hey, it's better than fleeing in terror from old people.
Cheat Code for Unlimited Pussy
There's one great thing about Gerontophilia. If you're a young man, you have an unlimited supply of pussy. Women never stop craving cock. In fact, the urge only becomes stronger as they age. But, in yet another cruel twist, the male sex organs begin giving up around that time. What other horrors doesn't fate plan to bestow upon us?
Any motherfucker with Gerontophilia can walk into a nursing home with his dick out and expect to be serviced instantaneously. The smart move is to go to school for nursing so you can work at an old people's home. You will literally be getting paid to crush puss all day. Congrats. You went to med school for four years only to end up a prostitute serving a bunch of Gertrudes and Ethels. But, hey, there are worse gigs.
Along with sex, laughing is one of the most pleasurable activities a human can participate in. It only makes sense that the combination can lead to some intense orgasms. The act is popular enough to have a name: knismolagnia.
We have all experienced the intense urge to flee when getting our ribs tickled. It's like your whole body buzzes. Now imagine feeling that during your vinegar strokes. It's as fucking intense as boning while camping. It has made cum fly out of my cock so fast that I thought I would experience a urethral hemorrhage. Thank goodness my penis could make it to the other side without incident.
Having a lady with that fetish is a fucking blast because it's not inappropriate to tickle someone in public. That means you can get her wet and horny anytime you like. Whenever I go out to eat with a bitch like that, my goal is for her to leave a puddle in the seat by the time we leave.
knismolagnia has its negatives also. For example, it can make a tickle fight with your nephew a bit weird, regular massages are off the table, and sometimes the wind will hit your neck in just the right way to make you cum in your pants.
You can work around all that, though. For example, tell your brother you have a nervous system disorder and can't be touched by children, only get happy ending massages, and check the weather before leaving the house.
I know you guys can't get a bitch to have regular missionary sex with you, so any strange fetishes are off the table. Well, except for the old bitch thing. You may want to consider a trip to the nursing home whether you have a grandma fetish or not. It may be the only way you will ever feel a pussy in your lifetime.
But I digress. When it comes to live fetish cams, Bongacams is fully fucking loaded. They have a superb collection of the raunchiest sluts on the net. Plus, Bongacams is one of the most trafficked live streaming sites on the internet. There's no way you guys haven't seen their ads and pop-ups on other porn sites. They don't fuck around with their advertising. You can find them everywhere.
Bongacams has some solid website design, although it's a little clustered. My older readers with poor vision may struggle to get going at first. The main menu is split into four tiers that run along the top. The first tier contains Home, Online now, a Search bar, Log in, Join now for free, and a language selector.
And because Bongacams is a global operation, they offer their site in thirty-six different languages. That's one of the largest selections of languages I've ever seen. So unless you live with a tribe on some secluded mountain top, your lingo should be included.
The second row has the options All models, Categories, History, All promotions, Contests, and Become a model. Whatever you motherfuckers do on Bongacams, make sure it doesn't include becoming a model. No one wants to see that except your mama.
The third row is a filter that includes All, Females, Couples, Males, Transsexuals, New, and Spy mode. It also has multiple ways to organize the thumbnails, so all my old folks with lousy vision can select the giant thumbnails.
The final row is a set of tags including but not limited to Mobile live, Foot fetish, Anal play, and Blow job. Between those four rows, you will be able to get wherever you need to be with haste.
As I scroll through the thumbnails, I see a lot of action happening. Tons of sex toys are being used. I see anal beads, dildos of every size and shape, Hitachi wands, remote-controlled vibrators, fruit, and one bitch even had a reversed fleshlight in her vag. She must have discovered that's possible when her pussy lost its last shred of elasticity. Fucking her twat is like tossing a tardigrade down a particle accelerator.
A Winners Diet
If you're wondering, I see one lady who might be considered a grandma, TheDime. To be honest, though, I think she's in her early forties but has lived a life that aged her before her time. It's clear that she has lost all convention through a steady diet of meth and domestic abuse. Yet, she's driving down the fucking street with her tits out while working a vibrator against her pussy. Let me tell you. This bitch has seen some things no one should.
On the opposite end of the spectrum, we have Lollyurvirgin. Now I'm not dumb enough to think this bitch hasn't had her pussy blown out, but compared to some of the other sluts live right now; she might as well be a virgin. Those lip fillers tell me she has at least sucked her fair share of cocks. She at least plays a goody girl on TV because she isn't naked and isn't wearing anything revealing. Her whole bit is about the mystery of it all.
Bongacams is one of the most successful live streaming sites ever created. They have planetary, if not galactic, reach. I wouldn't be surprised if aliens orbiting Proxima Centauri are watching this shit. Furthermore, because Bongacams is such an expansive enterprise, they attract sexy sluts from almost every country.
No matter what fetish you may be into, you can find a bitch here willing to perform it. If it's not listed as one of their regular services, just ask. I don't think there's a single thing TheDime wouldn't be willing to do for a buck. That bitch would drop her clit into a garbage disposal. I bet it already looks like it's been there.
My only complaint about Bongacams is the cluster fuck of a menu. All they need to do is spread shit out a little bit, and it would be one hundred percent better.
Whether you're trying to see a virgin puss or pussy that has been mentally broken by years of abuse, you can find it on Bongacams.
Global enterprise
Large model base
Freaky bitches
Confusing menu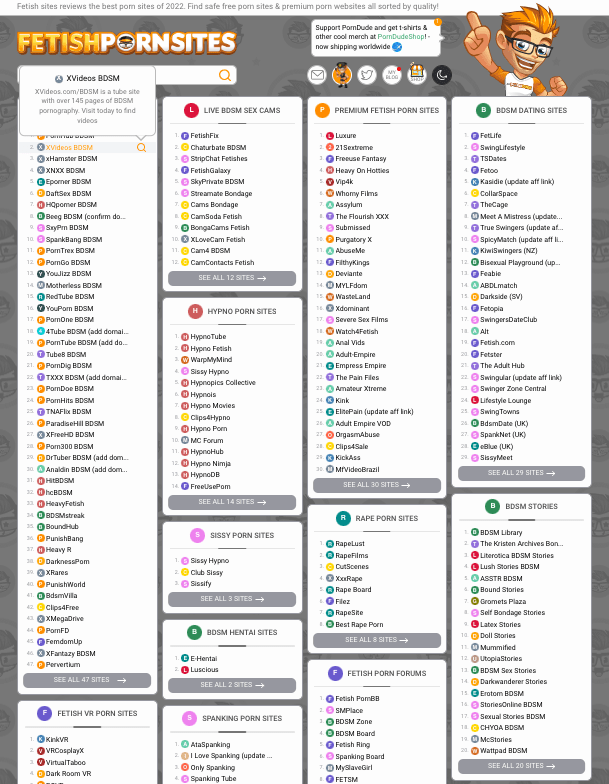 12+ Live BDSM Sex Cam Sites LIKE BongaCams Fetish