Show
12+
sites like

StripChat Fetishes

:
StripChat Fetishes
Strip Chat! Fetishes are like herpes in New York City; everybody's got them. They range in flavor from the absurd to the obscene and from the vanilla to the niche. Certain fetishes may be in vogue depending on where you live compared to other places. Others are universally loved. The thing is, no matter what yours is, you can find it online somewhere.
Attack of the Feet Guys
A classic example of a universal fetish is feet. It's funny that foot fetishes are so popular because they are also so hated. Few fetishes are more fun to make fun of. Feet are a love them or hate them game, and there's little in between. But boy, when people love them, they really fucking love them.
Feet guys get creative with those motherfuckers. We have all heard of the foot job. Honestly, it's not my preferred method of busting a nut, but if a bitch asks to do it, I won't say no. I'll end up cumming, and that's what matters. Besides, the position a bitch has to get in to provide a foot job displays her body exceptionally well.
It displays the whole front of her body, from tits to pussy. Plus, all the vigorous foot movement jiggles those big mama milkers perfectly. But, a foot job is just the beginning of where foot fetishes can go.
Some guys have a crush fetish. It's a sub-category of foot fetish where bitches step on things. This can be barefoot or while wearing shoes, but tall heels are the most infamous footwear selection because bitches look sexy in them, and the sharp heel causes the most pain. It also provides maximum visibility of the damage being caused.
The most popular items to squish are foods. Usually, a food that oozes when stepped on, like a container of pudding or a jelly donut. I think the jelly flying out reminds them of cumming, but crush fetishes can get a lot worse than that.
Another popular thing to step on is insects. Unfortunately, bugs ooze also. Not only that, but they wiggle and squirm to get free. If I had to guess, feet guys replace the bug with themselves in their mind and imagine trying to escape a bitch's grasp. It's less about the bug and more about the morality of killing a bug. Anyone can brush off the death of a bug for the sake of masturbation.
Not everyone's moral compass is well developed enough to care about the death of an animal. And this is where crush fetishes get extreme. While undoubtedly illegal in most countries, some guys prefer to see mammals get crushed. At this point, I think the fact an animal is getting fucked up matters. Unfortunately, the options for those guys are to watch dark web squish videos or start killing homeless people.
In the end, most guys are trying to replicate the experience of them getting squished. Being stepped all over, particularly in sharp stiletto heels, is a popular form of BDSM, and you can bet that blood gets drawn more often than not. Some of these fucks wish they could be crushed to death and come back to life.
If you want to see some feet or any other fetish, for that matter, the fetish category of Stripchat is your paradise. Not only can you see all the fetish content you could ever dream of, but it's live. What more could you possibly fucking want?
Only the Best for you Fucks
If you have been to any porn site ever in your life, you should be familiar with Stripchat. A solid percentage of all pop-ups are Stripchat-related. Not only that, but many sites carry links to strip chat in their main menus. These tactics have made Stripchat one of the leading live cam sites. Whoever came up with the menu idea better have been paid handsomely.
Because Stripchat is so well-trafficked and has been around for so long, they have developed into one of the most easy-to-use live streaming porn sites. This shit is really as professional as it gets. You'll never want to fuck with a shitty subpar porn site again. It's not worth your fucking time.
The main menu is spread across the top in three layers to help you delineate what is what. The first row is a link to download their app. Who doesn't want to carry around a live streaming app right in their pocket? If you never have, you're fucking up. Think about all the extra time in your day that goes wasted.
What else are you going to do in line at the pharmacy to pick up your T booster? Browse the magazine selection? Fuck that. With all the shit I've seen in my day, Maxim magazine can't even make my dick twitch anymore. I'm not fucking fifteen. So instead, pull out your strip chat app and watch a bitch fuck herself with a dragon cock shaped dildo.
The second row includes the options to hide or reveal the left-side navigation menu. Along with that, there's Home, Live now, Top models, a Search bar, Create a free account, and Log in. At the time of reviewing this article, there were over six thousand performers live. Bear in mind Strip chat is a global operation, so you can expect to see a large number of performers any time of the day or night.
The final row of the main menu has the options Girls, Couples, Guys, Trans, and a drop-down category list. Categories are split into seven sections: Main, Private shows, Specials, Age, Ethnicity, Body type, and Hair. Today we are sticking with fetishes.
In between the menus and the thumbnails are tags to specify what type of fetish you're looking for. Some examples are BDSM, Piercings, Slave, Cosplay, Fuck machine, Corset, Nylon, and, of course, Foot fetish.
Down the right side is a masterfully crafted navigational menu that will easily transport you anywhere on the site. It's one of my favorites I've ever come across and is split into Main, Specials, Age, Ethnicity, Body type, Hair, Private shows, and popular.
Blow Job Contest
Let's look at what some of these sluts are up to. When I saw four different bitches in the thumbnail, I had to check out GG mansion. The ladies were holding an all-girls blowjob contest, and they were not fucking around. These cunts went to town on some giant dildos. Honestly, after that performance, they are all winners to me. Plus, I don't know any of their names, so they will have to split the crown.
I only saw one or two bitches in costume in the cosplay section. That's not because the other performers weren't cosplaying. They had just already gotten naked. One bitch I know you simp motherfuckers will love is Arika Joy. I'm not sure what anime mech leotard she had on, but it showed off all her curves. Plus, you will love the hair-and-makeup job she did.
Despite her name being Emma Go Lightly, she certainly didn't appear to be going lightly on herself. Unless you consider wearing tight nipple clamps and smacking your pussy with a fly swatter going lightly. Not to mention she was spread wide the fuck open the whole time. So perhaps she meant to go lightly on everything but her genitals.
Before I leave, I would be remiss not to mention that almost every bitch here wears the same brand of remote-controlled sex toy in their pussies. It's pink, petite, and can be controlled by you for the right price. Each bitch has her own tip scale, and depending on how much you give; you can control the toy for X amount of time. It's a great way to interact with a slut beyond direct messages.
And if you really want to get intimate, you can get a private show from any lady. Like strippers, live cam performers always get freakier in the private room than in the public square. So if you want to see some weird shit, that's the place to do it.
Stripchat is one of the top five live cam streaming sites on the net. They have a vast customer base and tons of sluts willing to do anything it takes to make a buck. And because they are so popular, Stripchat only attracts the sexiest sluts. Competition is high, so you better be a nine or up if you want anyone to watch.
I don't have much to complain about on Stripchat. They have addressed many of their problems over the years. They were even kind enough to spotlight Ukrainian models during their time of crisis. I just want them to keep doing their thing and never leave us.
Stripchat is your home for sexy sluts satisfying your need for any fetish you desire.
Expert vets of live streaming
Only the best performers
Always plenty of sluts live
Not much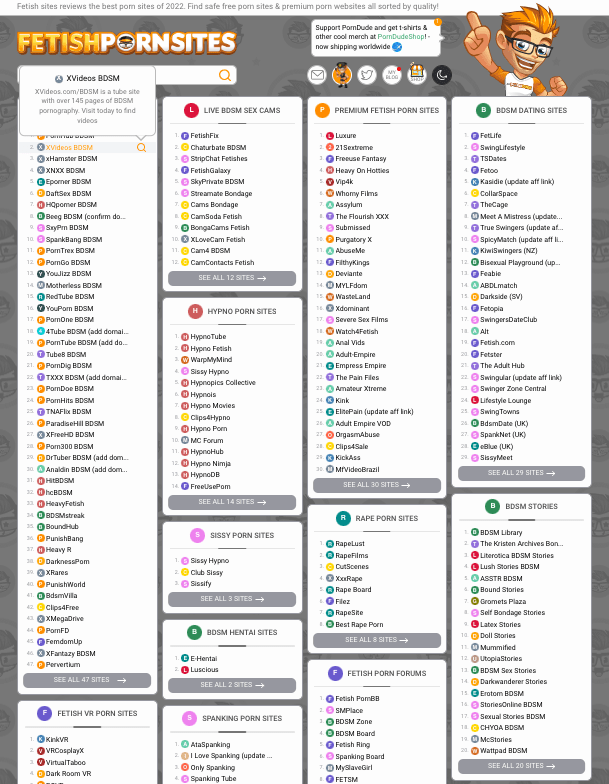 12+ Live BDSM Sex Cam Sites LIKE StripChat Fetishes