Show
12+
sites like

CamContacts Fetish

:
CamContacts Fetish
Cam Contacts! You fucks know I don't have your average, pedestrian sex. I have sex on a level you bastards could never imagine. I take a bitch to places she never thought possible. Because of this, I can't fuck normal twats. I need slutty cunts that can keep up with my debaucherous lifestyle. I live on the sexual edge, so a bitch needs to be ready to fall off the cliff at any moment.
I keep cunts on their toes. They never know when I might pull out a new fetish, toy, or position. While I might leave a woman not knowing what the fuck just happened, I never leave one bored. I couldn't count how many fetishes I've dabbled in over the years, but it's safe to say far more than you could accomplish in a thousand lifetimes.
You probably have no idea how many pieces the fetish cookie crumbles into. I think our human imagination evolved for the express purpose of inventing new and fucked up ways to bang each other. That's an evolutionary effort well spent, if you ask me. What else am I going to use my brain for, inventing new ways to hunt food and seek shelter? What am I, a fucking pussy? I'll sleep outside, eat dirt, and destroy cavewoman pussy like a real man.
Let me blow your mind with a few niche fetishes that I'm sure haven't come across your desk. Lithophilia anyone? No? Good thing because it's arousal to stone and gravel. Wow. What lucky fucking asshole is attracted to stone and gravel? You're telling me all they have to do is walk outside, look down, and they bust a fucking nut?
Throwing Stones in an Ass House
That means there isn't a single Lithophilian that reads my articles. Why would they? They don't watch porn. That would be fucking stupid when they can go outside, fill an old shoebox with detritus, return to their bedroom, and sling ropes on some quartz crystals. I would kill to have that fetish. That's just the thing, though. Lithophilia can kill you.
Anytime a person has a fetish for an object small enough to fit in an asshole, danger is just around the corner. Gravel isn't exactly the cleanest shit in the world, and shoving it in your ass could undoubtedly cause some problems. I'll bet my life there has never been a Lithophilian that has so much as rinsed his stones before inserting them inside himself. Those rocks are getting raw dogged. The risks men are willing to take for an orgasm stopped surprising me years ago.
Speaking of dangerous fetishes, depending on your allergy status, few are as risky as Melissaphilia. You can't derive it from the name, but melissaphilia is arousal to bees and wasps. My first question is, who did Melissa hurt to have this fetish named after her?
The Ballad of Steve
Here is my theory. A guy, let's call him Steve for simplicities sake, is dating some unbearable cunt named melissa. He fucking hates this bitch, but they're married and have kids, so he feels stuck. One day, while taking a walk in the woods with the children, Melissa steps onto a ground bee nest, and thousands of angry bees rise up and begin stinging her to death.
There is nothing Steve can do without putting himself and the kids at risk. Besides, if there was something he could do, would he have done it? Probably not. Of course, the kids are forever traumatized and develop a horrible fear of wasps and bees. Steve, on the otherhand, just watched a cunt he hated to the very core get absolutely eviscerated by bees. It was the most glorious thing he had ever witnessed. Better even than the birth of his children
Now every time Steve sees a bee, his dick turns into the Washington monument. He retires from his job as a mechanic, hustles the kids off to college, and spends his retirement beekeeping. While whittling away his days slinging rope into the hives, he discovers a chemical reaction between honey and cum, that makes the honey twice as sweet. Steve becomes a millionaire feeding us cummy honey all because his cunt wife stepped on a wasp nest.
It sounds like a happy ending, but because Steve was never willing to leave his bees and his kids were deathly afraid of them, they lost contact. Without their fathers' guidance, the kids become criminals and drug addicts, eventually succumbing to violence on the streets of Skid Row. As they say, the Lord giveth, and the Lord taketh away.
Wow. I don't know about you, but that was an emotional rollercoaster. I need to calm down with some porn, so let's check out Camcontacts. Camcontacts is an expansive live streaming site unlike most you will ever run into. Not only do they serve depraved and horny fucks like us, but they also serve people looking to meet for more than just a jerk-off.
The live streaming rooms are split into many categories. Some are vanilla, such as Make new friends, and Long term or marriage. Some are in the middle, like Maxim magazine. Some examples are Adult softcore, Glamour girls, Girls home alone - a little shy, and Girl on girl - a little shy.
We don't want to fuck with any of that bullshit, though. We want the real shit, the nasty shit. Don't worry. They have plenty, including Adult hardcore, Girls home alone - not so shy, Girls home alone - instant action, Girl on girl hardcore, fetish, dungeon, and Gender benders.
All the nasty shit options are fantastic, but we're here today to see some fetish bitches in particular. Before getting too far, you'll need to sign up for an account. Otherwise, you can't get on a stream or see any raunchy content.
Once you're on the fetish page, you'll see a single column of thumbnails. Each has information about the performer, such as name, language, age, a tagline, and links to their profile, text chat, and stream.
Find yourself a sexy cunt and click on her pic. It opens up her profile where you can learn a little bit more about a bitch. Up top is a header with a picture, another quote, her rating out of five stars, sexual preference, and links to text her, email her, or send a present. At any point, you can hit the big yellow "live video chat" button to start the stream.
Below the header is a set of pictures. Most bitches put a bunch up to lure horny men like us toward the live streams. For example, Miss Odalis has a couple of dozen pics portraying her in assorted stages of undress. Among the pics, you will find little factoids about a bitch. There's an about me, a what turns a bitch on, and a what turns a bitch off.
A Shocking Plot Twist
Miss Odalis is a fucking freak. When asked what turns her on, she replied, "electricity." Electricity?! This bitch must be nuts. What is she doing with it? Does she shuffle her feet along a shag carpet and give her clit a static shock? Does she press nine-volt batteries against her labia? Does she keep a taser in her purse so that she can get wet first if someone wants to rape her? Does she use a Tesla coil as a dildo? Does she insert a fork in her pussy and then insert that fork into a light socket? I have nothing but questions with zero answers.
Below the pics are two final questions. The first asks what we can expect from her show. It sounds like she spends a lot of time trying on different outfits. She also mentions that she takes requests on her DM.
The final question asks what her optional activities are. These you will have to pay for and possibly be in a private room for. She has a massive list, so I won't cover it all, but I have some highlights for you: BDSM, Orgasm denial, Armpits, Cock and ball torture, Masturbation, Penetration, Smoking, and Slaves. I think this bitch is about to notice an increase in traffic.
Camcontacts is a unique live streaming site that covers a lot of ground. While they have several vanilla options, my readers will love all the hardcore shit. Camcontacts exudes a certain professional attitude that most porn streaming sites lack. It attracts a particular type of model that's sexier than average and more willing to get freaky.
My only complaint about the place is that you can't do much until you are registered and have an account. You can't get on a stream or see any pictures of a bitch. If they included a preview option, it would encourage more people to join.
You will not have seen anything like Camcontacts before, so if you're looking for something different, you'll find it here.
Unique
Well organized
Different bitches than you find on most sites
Needs more previews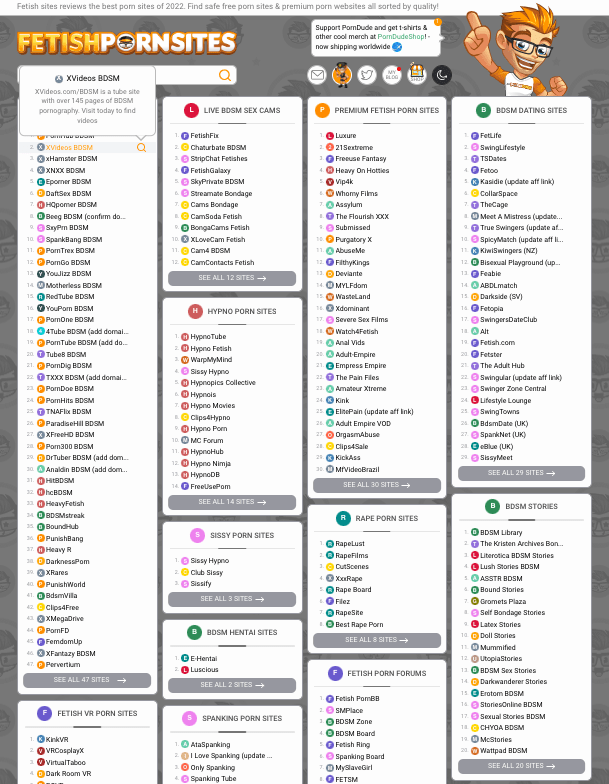 12+ Live BDSM Sex Cam Sites LIKE CamContacts Fetish