Show
12+
sites like

FetishGalaxy

:
FetishGalaxy
Fetish Galaxy is quite an interesting website if you're looking for a good place to access fap content. You'll be beating your meat, stroking the cat, or having... it... beaten... Look, I'm just here to talk about the site. Do you really expect me to process my thoughts too? FetishGalaxy is a webcam site designed to bring out the fetishes we may have and enjoy them with other camgirls, men, or transgender people.
You can find so many different areas willing to stroke that unique side of yourself. And, hell yeah, fetishes are unique. They define us when it comes to the bedroom. You can have a horny, submissive girl who's just dripping. Or a masochistic guy who gets harder than steel when he's punished. It all depends. Here's the kicker: this website has people willing to do things like that through a webcam.
Design - Typical, Except on Mobile
The design of this webcam site, FetishGalaxy, is pretty typical. You'll be met with large, easy-to-examine photos of the different chat rooms. And if you hover over the thumbnails, you can see a bit of what's going on inside that room. Maybe you like what you see? Perhaps you don't. There's even an icon on some rooms that looks like a regular vibrator. This means that the person has a toy active. So you can submit some coins (purchased with real money) to make the toy vibrate.
That's something we've seen done over a couple of times, so there's nothing new there. What's actually really nice about FetishGalaxy is how streamlined it is on mobile. You have no idea just how much porn is on my phone or how often I look at fat asses and jiggling titties on my phone. Okay? No idea. FetishGalaxy makes watching fetish webcams so easy on the go. The website appears just as it does on a desktop on the main page.
However, tapping on a room is where things get interesting. It completely fills your screen if you're holding your phone upright. You can then use your finger and slide the video over to see the sides if she's reaching for something. Then, of course, you can turn your phone sideways to view it in landscape view. But it's so easy. Everything is laid bare for you.
The UI (user interface) of the cams is so fucking good. They're a bit transparent, not to block what's going on. You can hide the chat if you don't care to see what others are saying to the dominatrix or submissive girl. This makes it easy to focus solely on this beautiful woman or tough guy in front of you.
Content - Fetishes Know No Bounds
Now, someone, such as myself, knows a lot about fetishes. I'm clearly writing it right before your very eyes! You might be wondering, "Hey, PornDude, just how many fetishes are there?" And I'd respond, "A fuckton!" Seriously, there are so many fetishes in the world. We, humans, are kinky, let me tell you. And horny. Don't let anyone ever tell you they're not (unless they really are not. Be respectful, not an idiot.).
FetishGalaxy portrays the fetishes most people are familiar with and what some people have. There's your latex fetish, bondage, domination/submissive, gagging, and a ton more. FetishGalaxy then breaks things down a bit further. You can select which type of cam-person you'd like, male, female, transgender (trans man, trans female). Each of these areas has its own tags at the top, which are more prevalent within a given category.
If you're only looking for girls gagging themselves, sort the cams that way. Looking for a blindfold play, go for it. Yet, FetishGalaxy expands on its content even further than just plain tags. The cams are marked in either green or blue with a title. Those titles can be "Professional Submissive, Professional Educator, Professional Dominatrix, or Expert."
These labels are for the show provider to let you know what you're getting into. If you're looking for someone submissive, willing to do whatever you ask, there are girls like that. Spanking themselves and shoving a dildo down their throat, pretending it's your real dick. The educators seem to be explaining how things work—showing off what it takes to be in a situation, such as a fetish they're showing. It could be about whips, ropes, orgasm denial, anything.
It's Fantasy, It's Kink (The Positives)
What I love about this website, FetishGalaxy, is the design. Its user interface is stellar on mobile, which is something we need more of. Everyone's on their phones more often than a computer (depending on some things, hush). We are glued to our fucking phones, and we want to see some fucking while we're on our phones! So come on, don't mess around. FetishGalaxy allows you to explore those fetishes you may have.
I think the exploration part is where FetishGalaxy truly shines. They allow you to explore. They pave the way for people to come in and see if they genuinely like it. It's hard to express the fetishes or kinks you see on this website. Not every person accepts it. It's the harsh fucking truth. I know we want to be accepted, and sometimes we have that unfortunate encounter with someone who doesn't like that about us. Fuck them!
FetishGalaxy is calling you in. Come and enjoy what you like with people who also want that shit. Relax and watch a submissive girl fuck herself with your every command. Listen closely as your dominating teacher tells you what the fuck to do. Or watch someone whip themself or their partner.
Enjoyment. That's the biggest positive of FetishGalaxy. You can find those things you thought were "weird" about yourself here and enjoy it. You're in good company with the people camming through FetishGalaxy. You even have people willing to teach about these fetishes. They're labeled as "educators."
It's More of a Fact (The Negatives)
To speak negatively about FetishGalaxy would be hard to do. They do things quite well, and some things they don't do well. It comes down to what you're looking for. As for me, I'd have to go with there's no straightforward way of knowing more about a camgirl, for instance. You'd expect a quick bio with their name, age, all that good shit. But there isn't anything like that.
There are no additional pictures you can maybe look through or purchase. The coins for the site are for their toy and for tipping them.
Go All In (My Suggestions)
It's equally as hard to suggest something to change about the website because that's not the case. It's more about pushing the envelope further with FeitshGalaxy. They're all about fetishes, so push it out more. Go out and start advertising yourself as a site with sexual education on fetishes for adults looking into this sort of stuff. Talk about the submissive, dominating, spanking people on this damn website.
The website itself is very bare. There's not much to reel you in and make you feel like you belong here with them. It's a little cold too, shit. Warm me up! Show me something about the camgirl. Let these people on FetishGalaxy customize their rooms. Let them put up some images and write things that introduce themselves.
Everyone can benefit from a bit of customization. The educators can have it clearly label what their experiences are. The experts can show what they're amazing at instead of repeating it over and over again to people. For other areas, submission, a dominatrix, and whipping it's straightforward. But there's so much that goes into a fetish, especially what FetishGalaxy shows, that you don't get to know.
So, if I had to make a fucking suggestion, it would be to warm the place up a bit. Allow people to understand who they're talking to through what's written and what the person is telling them. Fetishes are personal and close to the chest. It'll be easier for a person to feel welcome and open up in a more inviting setting.
In Conclusion
FetishGalaxy is a fantastic place for coming into fetishes. What makes it stand out is its video UI on mobile (desktop is simple) and its labels for different people. These titles range from submissive to dominatrix to an educator. What sticks out here's the "educator" tag. You rarely see something like that in an adult webcam setting like this.
You're usually coming to places like this to bust a nut and watch some girl cum like crazy. But, with FetishGalaxy, you're learning, too.
UI on Mobile
Titles for different cam rooms
Loads of categories of fetishes
A place to feel comfortable with your fetish
The site feels cold, not welcoming in some areas
No extra photos or anything to maybe consider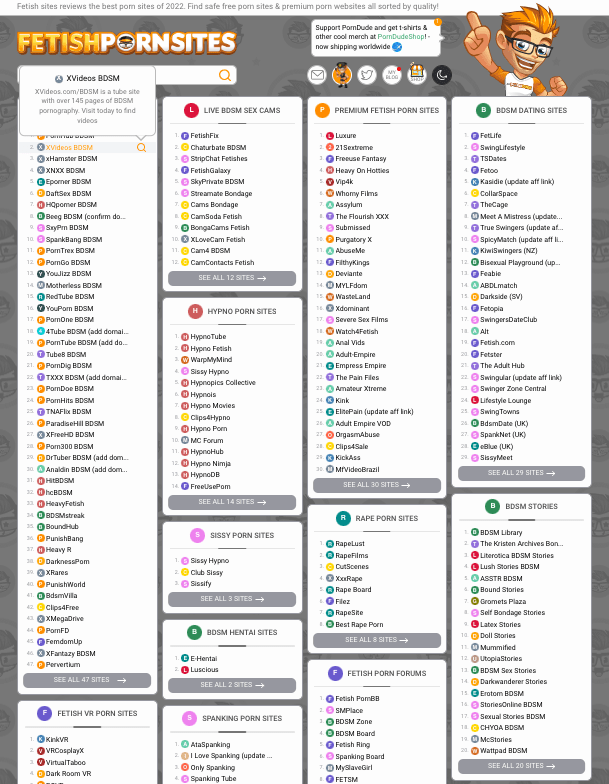 12+ Live BDSM Sex Cam Sites LIKE FetishGalaxy