Show
12+
sites like

FetishFix

:
FetishFix
Fetish Fix! How's it going, you fabulous freak!? I know exactly what you want. You want a sexy little dommy mommy to slap you around and tell you that you've been a naughty boy. Don't lie! Mommy might find out, and you'll get in trouble!
The problem is, you're just sick of watching some other lucky bastard getting disciplined by a sexy dominatrix. YOU want to feel what it's like to be praised and punished by a strong, sexy female. I get it, my wonderful horndog. Some people want to be abused. Luckily for you, some people want to abuse you! I've got just the perfect thing for your little masochistic fantasies.
FetishFix is one of the world's most visited live streaming platforms, and it's strictly hosted by thousands of dream dominatrixes. You know what that means? That means there are millions of men who want to be used and abused, disciplined and praised, just like you, my friend. FetishFix has a collection of the most gorgeous babes who would love nothing more but to put you in your place. These girls are bursting with a sexy class that you can only help but admire while you bow to lick the shine off of their stilettos.
My friend, you are about to become the pet of your dream dominatrix. And I promise she's going to give your naughty little ass a good fucking time.
Straight to the point
I can always appreciate a clean design, and FetishFix does not fail to deliver. The web design shows just as much discipline as your mommy is going to show you. The red and black color theme (trademark of any good fetish site) is cleanly distributed around the site. The site remains completely ad-free. You don't need to be distracted by any other girls, do you! You don't want to make your mistress upset, now!
I was particularly fond of the category system. FetishFix handles their streaming categories a lot better than a lot of other live cam sites. There isn't a lot of confusion when it comes to looking through the list — there isn't even a specific page to go to; it's all down the side for you to choose. The categories are pretty unique compared to a lot of other sites too! As messy as some of these sites like to have their categories, not many of them would sport a "deep throat" category. There's a smoking category if you really want to be owned by a classy bitch. And get this! There's even an ASMR category! So, instead of scouring YouTube for "Mom tucking you to bed roleplay", you can have your very own "mommy" do it in real-time!
On the front page, you'll find a list of gorgeous ladies that are live and waiting for you to join. Like any porn site that cares, you'll be able to sneak a peek at the live shows by hovering over the thumbnail. If you're looking for a quickie, you can see how close the streamers are to "finishing". Although, you'll have more luck on Chatturbate. On Chatturbate, you can have your way with as many bitches as you'd like. On FetishFix, YOUR'E the bitch, and these ladies will be having their way with YOU.
As well as their age, you'll also see their rating on the thumbnails, indicated by a little love heart with a percentage. Most of the ratings are pretty high, but there are some girls with a rating under 60%. I don't know what they did to deserve that. Maybe they treated their pets a little too rough. There's also a little vibrator icon in the corner. That indicates that they're using an "interactive toy". In case you're not familiar, that's the little pink thing (magic wand) that hangs out of a girl's pussy in those cam videos you see on XVIDEOS. When you donate to the girl, you activate the magic wand. Sometimes, some baller will enter the chat room and light that motherfucker up!
Be good for Mommy
First of all, I've got to comment on the caliber of these women. There isn't one "okay" looking girl on there. I'm serious. Every single one of these streamers is gorgeous enough to steal your fucking soul. From the 18-year-olds all the way to the mature women. There's not a hair out of place. The whole thing is a fucking smoke show! It's not every day you get to see this many gorgeous women in one place. You might have a tough time choosing who you want to simp for first!
When you enter the chat room, you've immediately got the option to turn on HD. Although, most of the cameras these ladies have are immaculate. So, it won't make much of a difference. If you're a guest, you won't be able to use the chatbox except for a few pre-written messages. You'll have to sign-up for a free account in order to try and get your new owner's attention. Fortunately, the sign-up process is quick and easy and doesn't require you to pull out your wallet. Unfortunately, your messages will probably still be ignored.
To really get Mommy's attention, you're going to need to be a premium member. Don't worry though, that doesn't mean a monthly payment! That just means you're going to have to gift a few credits while you're in the chat room. There's a fun little "King of the room" feature for whichever of her subjects donate the most. So, if you really want Mommy's attention, you're just going to have to donate more than the next guy!
As a guest, you can also only watch the stream for a limited time until the site prompts you to join for free. While you get to watch the stream for free, there isn't a lot of perks for free users. The good news is, the streamers on FetishFix are very active. Even when you're a lonely little leech, you'll be able to get some action before some baller steals her away to the private room.
If you want some alone time with your mistress, you can also join a private room with her. The thing is, Mommy's no cheap slut. You're really going to have to fork out some real cash if you'd like some real quality time. A private session costs about 2.5 credits per minute. That means, if you want some real time, you're going to be spending upwards of $100 dollars. That won't matter though, will it? By that time, you'll already be Mommy's little bitch. So, half of your yearly wages will be hers anyway, right?
What I liked
Every single one of these beautiful babes is a fucking smoke show. I seriously can't get over it. How the fuck are you supposed to choose which bitch to simp for? They're all gorgeous. Not only that but there's such a variety! Asian babes, white babes, ebony babes, petite, mature, redheads, the list goes on and on! I don't even know what to do with myself in there. I'm like a kid in a fucking candy store!
These girls aren't tame either! You're not going to find many of these ladies twiddling their thumbs and waiting for the money to rake in. No, my friend. The bitches work! When you enter a chat room, you're likely going to walk into some action! Some dancing, a little exposé, some of these ladies will even talk to you if you manage to get their attention!
What I didn't like
Okay, I know I said you're likely to get some action when you enter the chat rooms. And yeah, that's true but it's not THAT much action. Look, I know these ladies are supposed to be classy or whatever, but I don't want to have to wait THAT long to see some ass.
While the site isn't as grossly extortionate as other live cam sites out there, it's still pretty damn expensive. I mean, the quality is fucking good. So, you're getting what you pay for. But be willing to take out some serious money if you want any kind of action.
Tips from ThePornDude
When I was looking at the thumbnails, I was interested in the "interactive toy" icon. Only, some of the girls didn't have this on their thumbnails. So, while I could imagine them going crazy after I've brutalized their pussy with my wallet, I'd notice that they didn't even have the icon on their thumbnail. It would be a great idea to be able to filter the streamers by those who are using the "vibrating toy".
Conclusion
If you're looking for a hot dommy mommy to put you in your place, FetishFix might just be the place for you. This website has an amazing collection of hot babes just waiting to make you their bitch! The site isn't very friendly to free users. Mommy's no cheap whore! But, If you're willing to fork out a good bit of cash, there are thousands of sexy dominatrixes to give you the time of your slutty little life.
Gorgeous babes
Large variety of girls
Enthusiastic streamers
High-quality content
Free sign-up
Expensive
Not free user-friendly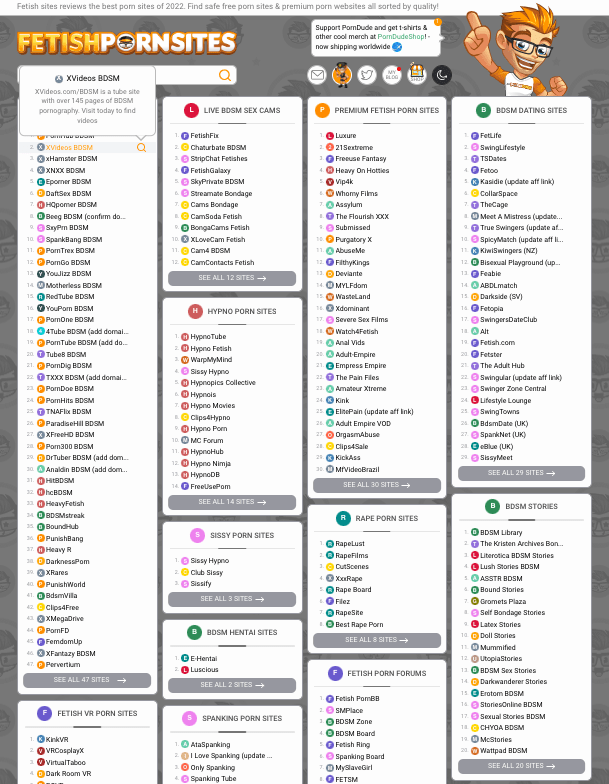 12+ Live BDSM Sex Cam Sites LIKE FetishFix