Show
12+
sites like

Cam4 BDSM

:
Cam4 BDSM
Let's face it perverts! We are in the fucking 21st Century and scripted porn is outdated! Who the fuck minds watching spiced up porn? I can't keep watching the same models all the time as they act those scripted scenes. The excitement has been buried. At times you'll end up wondering what the fuck is it that you're doing with a lubed hand holding your dick for the last fifteen minutes as you stare the same bitch getting drilled in the same positions. I bet you've wanked to the same video for the 10th time for the past 5 days. We are yet to the weekend and you're already bored by the same shit, fuck it man.
What is it that makes you endure all his suffering? Is it because some internet nasty slut has beautiful eyes? Or is it that you're infatuated with her aggressiveness? Or is it her shyness? But wait this pervert get turned on by a girl's ankles. Whatever it is that you are obsessed with, latex outfits; her hair color makes your dick hard, the fucking nape on her neck, it is consuming you with desire. That is your fucking fetish bruh! But then you are still wondering if the bitch can give you a punishment like you deserve.
Cam4 BDSM review
Now you're on a self-pleasuring quest – how Ukrainian bitches wish you were on a mission to save them, but then they don't remember your horny ass plus that useless hardon come first. With your useless mission, where should you land? cam4.com/tags/female/bdsm! I believe we are in the same fucking page, looking for a horny bitch whose morals are rotten beyond salvage plus, she is extremist and very hot, unlike you neighbour's daughter who flaunts with you but can't fuck you. If that's the case, then we can fucking have a ride!
Porndude, I want amateur BDSM babes, but filthy.
They are better performers and more realistic. Whoa! Well put dumbass. How on earth can I have the same fetish as you loser? Honestly I never thought I could be on the same page of perversion with a wanker who chokes his dick and soaks his dirty socks to any old school and low quality smut. My grandpa actually does better in his dingy room in the nursing home. The thing with amateur pornstars let alone camgirls is that they are not experience and their acts therefore don't seem scripted. Amateurs are more real plus they are new personalities with different body types. Why don't we give a chance to the often overlooked sluts? A generation of hot performers!
Here you might even come across you hot English teacher or the hot girl next door whose father is a cadet. And since thy are fucking not famous, their performance is authentic and since you have given the bitch a celebrity air you gonna experience the best time ever since her main goal is tom make your filthy ass happy.
Is it bondage or I'm getting some vanilla shit, Porndude?
I get it loser! You like the submissive whores get humiliated and embarrassed on the camera. You just want to fap to bitches get some bondage and rope play. Like BDSM, and in this I mean all sorts of bondage for fucking sake; anything from full-on leather, handcuffs or the fucking ball gags. Pain is investable. But bro, before you get a whore who wants to endure all the suffering, painful pleasure, humiliation and embarrassment can be quite a fucking hustle. Fuck it man. And well Cam$ BDSM is such a genre where you can hide and drain off those balls.
These bitches are addicts to any bondages regardless how extreme, filthy and kinky the shit can get. Come on here and get to see daring Russian bitches get tortured with their arms tied as they cry out to you to help them – they can't get it that you're enjoying every bit of their humiliation and secondly you want them to pay for their father's – Vladamir Putin – mistakes. The kinky bandage amateur cam bitches will never have you rest.
A trimmed-like pussy site design – Excellent first impression
Who hasn't ever had a fetish to a trimmed pussy? Like a freshly shaved pussy with a V-like traces of pussy hair. The sight is just glorious. Bro one of the fucking things I will complement about this site is that its design is unique and sleek. The interface is user friendly – you can never be blind while wanking in stealth mode in the middle of the night in your compound's car garage. The dark purple theme of the background is the holy grail of this shit.
All cams have previews and the search tool, are simple to use. To quickly access the bondage category before your pecker can become flaccid; on the left side of the site's menu is a bar from which you can click bondage. Or you can paste cam4.com/tags/female/bdsm on the search tool of your browser and well fucker, you're good to go.
No ad pop ups but there's a catch
How was your last experience with ad pop ups while you were wanking bro? Yes you were fucking using a free porn site, right? Well at cam4.com/tags/female/bdsm, you don't have to worry about any ad pop ups during your happy quest whileon this platform. No bullshit like website redirects, ad popups or the fucking annoying ad banners. What's more boring with ads is that they never come close to anything that you are watching. Rather than getting naked beauties ads, you get betting sites ads. Isn't this madness?
The site is not a free site and therefore they don't have to rely on ads to get dosh. The ads plague is only experienced on free smut sites. cam4.com/tags/female/bdsm relies on tokens and payments. The experience on this site is a fucking breeze and checking out of different streams a walk in the park.
Excellent filter options
The filter options on this site make it easy to find a prefect bondage babe, and your perfect fap fetish. Guess what dumbass, you can sort your best fantasy babe through tags like curvy, tattoos, oral sex, petite, age and even hair color. With a few clicks your fantasy slave girl is already commanding you on your screen.
Hovering over the stream give you a snippet of what the bitch has been doing. Others have big previews and therefore you might never land to the wrong chat room. You will never fucking get a wrong picture of what the model looks like. The previews are large enough to cover the fact that you only get the name of the harlot I question and denied description, view count and tags. Luckily with the previews we already have a taste for the fucking bondage that is upon us.
Porndude, I hope my bucks will get me HD streams
Broke asses are now making demands on what to expect? Tables do turn. Luckily I am not cam4.com/tags/female/bdsm owner. And well from your demands it seems you have tons of joy to experience. You have full HD videos to stream, and features like cam2cam, tip prizes, interactive toys, goal shows, and private shows, among others.
But for these babes to give in to your virtue threats, you must dash them with some dollars in their accounts. In fact I believe that these babes get horny when they see their bank accounts grow north. You might not believe this but some of the live models have videos and photo galleries that you can buy in case they are offline. A monthly subscription to your favourite whore gives you all content at once.
A mobile friendly site
Not everyone gets comfortable to fapping on a laptop. I wonder what your explanation would be if your mother saw you running to the bathroom with your laptop. The site is well formatted and does well on the mobile. You don't have to worry when you are away from home. Through the mobile site you can activate notifications and when you whore is live, you can log on and watch her going down and getting nasty. There are no ads here too.
What I liked about cam4.com/tags/female/bdsm
The fact that I have a glimpse of the action before clicking on a model was a plus for me. With the addition of interactive toys, HD streams make me squirm.
My suggestions
They should increase the bondage content because currently everyone is on the move to the kinkier, extreme and dirty shit. We don't get hard to vanilla shit anymore.
Conclusion
If you have an insatiable self-pleasuring quest, then cam4.com/tags/female/bdsm is a dungeon worth stealing both your older step sister's credit card and dirty panties. Here you have loads of hot bitches that you can choke your dick to their antics. What are you waiting for dumbass?
Simple and modern site design
A mobile experience that is solid
No ads
Interactive toys that make these babes squirm
Less bondage streams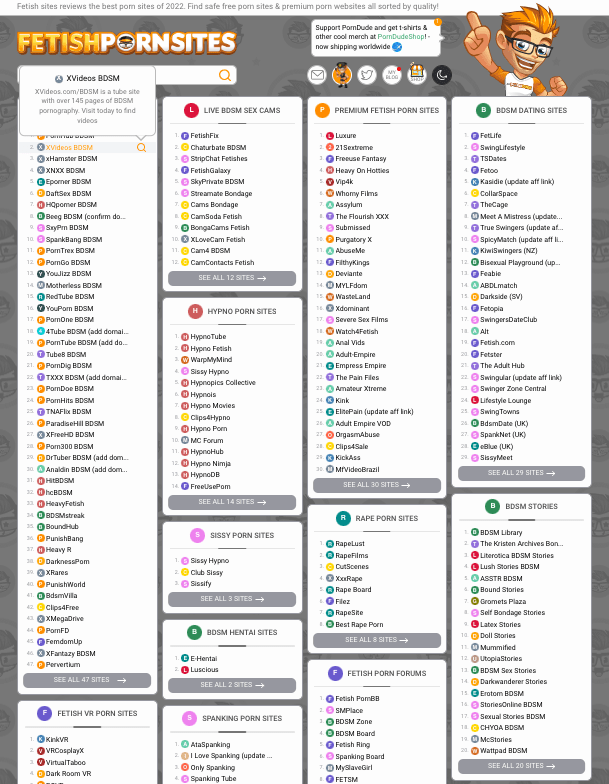 12+ Live BDSM Sex Cam Sites LIKE Cam4 BDSM