Show
12+
sites like

Cams Bondage

:
Cams Bondage
While my fans may love some BDSM, what they don't love is memorizing vocabulary words. The problem with that is using correct terminology is a critical aspect of safe and enjoyable BDSM play. I understand you guys may never get the opportunity to practice BDSM on a living, breathing human, but sounding like you know what you're talking about also helps when on BDSM live streams. I don't want to send my readers to a site like Cams, still sounding like retarded idiots. Or at least any more retarded than you already are.
You probably think I'm talking about safewords, but you're mistaken. I'm talking about all the dangerous words. So let's cover some I believe will matter to my readers.
Let's say you're into teens. Of course, you are. You are, I am, everyone is, so please don't feel bad about it. Blame God. It's your genetics demanding that you procreate with the youngest and most fecund members of your tribe.
You don't want to pull up to a live stream and tell a bitch you're one step away from being a pedo. They generally don't like that sort of thing. The term you want to use here's age play.
Age play doesn't have to be done with someone who's actually a different age than you. Age play is about just that; play. It just so happens that the play is a lot more realistic if there's an age difference.
Young bitches on BDSM streams know what the deal is. They understand why they make so much money. It's because creepy fucks like us would kill to go back in time and fuck them.
I've spoken about CBT before, but it's key to know what CBT stands for before stumbling upon it. Otherwise, you're likely to have a stroke when you see it. CBT stands for cock and ball torture. I know what you're thinking. It's either, "boy, I sure do wish my balls were in a vice clamp right now," or "why the fuck would anyone want their cock and balls tortured?"
I can't answer that question. I'm not often mystified by porn, but cock and ball torture confuses me almost as much as your incest obsession does... Almost. In the end, I would much rather get kicked in the balls a few times than get my dick sucked by my sister. You guys can fuck right off with that shit.
Munching Luncheons Lead to Beaver Munching
Just because the likelihood of you fucking someone is low doesn't mean you shouldn't try. A good term to keep an eye out for in local event flyers is "Munch." A munch is a social get-together for people who participate in the fetish lifestyle. No sex occurs, but it's a place for people to get familiar with one another before they flog, finger, and fuck. Furthermore, it's a place where you just might find someone willing to let you into their vagina.
One way to increase the chances of getting laid is to be willing to perform extreme or strange acts. To that end, being aware of pony play is a good thing. Unfortunately, you don't see pony play very often on live streams, but many bitches will do it in a private room if you ask.
More importantly, if you are willing to degrade yourself to the point of pretending to be a horse, it increases the chances of you getting laid seven-fold.
Now that you are better versed in BDSM vocab, take your new knowledge over to Cams. Cams is a live streaming site that offers various stream categories. However, we are focusing on BDSM for this article, and for a good reason. While the entire website is excellent, they did a particularly bang-up job with BDSM.
Cams have been around for a long time now. They got into the game not long after the popularity of live cam porn sites exploded. It was perfect timing because now everyone and their grandma like to watch streams.
Cams developed a unique design that avoids using the main menu and instead sticks to the filters to help you find content. First off, before you get too far ahead of yourself, you should sign up for an account. Watching streams is free, but you will want access to some features having a profile grants.
Once you have that done, check out the content filter that runs down the left side. It's split into six sections. First, choose a gender from male, female, and trans options. Next, choose an age group. The selections are twenty to twenty-nine, thirty to thirty-nine, forty to forty-nine, and fifty plus.
After setting your age group, you can choose a race from the options Asian, ebony, Latina, white, and other. You can also specify hair color from Redhead, Brunette, Black hair, and Blonde.
Finally, there's a shortlist of tags including shit like big beautiful women, anal, foot fetish, oral sex cams, big boobs, small boobs, and tattoos.
Now that you know how to get around, let's check out what these cunts are up to. Tiffany Moore is a perfect option for those looking to take part in a bit of the aforementioned age play. You'll think you just graduated high school between her petite body, babyface, and braces. Plus, this bitch is sexy as fuck. Her touch of Latin fire will turn your cock into a diamond.
The tits on Lakhsmi Cooper are the essence of perfection. If I ever become ill and death is around the corner for me, I choose to be euthanized via smothering in her mammary tissue—what better way to meet my maker than while busting a fat nut? I hope the grim reaper brought tissues along with his robe and scythe.
This Bitch has Done Some Things
Mia Scarlet has I'm-a-freak eyes. This bitch has done things to penises that few have. I don't think she has ever said no in her entire life. The eyes are the perfect mix of dead inside and manic that always equates to an insane sex life. If you date her, she might end up killing you with a pillow while you sleep. I suggest sticking to beating off to her while she streams.
Her tits have been perfectly enhanced. Not too much, not too little. And why do crazy cunts always have bird tattoos on their chests or under their boobs? It's the universal sign for sucking dick like a champ.
If you're a fan of ladies with some meat on their bones, look no further than Adelle Fisher. This bitch has a thick body that was made to fuck. Her thighs and booty are popping out of her lingerie, not to mention that she has an absolutely gorgeous face. It begs to be cummed on.
There are so many great tits on Cams. It's like they sent out a beacon calling all large chested sluts to get in front of their webcam and log on. Chary Rouse is another fine example of this tit perfection. Some tits want to be jiggled, some motorboated, and some sucked. Well, these want to be sucked. There's nothing like putting your face up to a tit that's bigger than your head.
This bitch has that same Latin fire I mentioned earlier. She also likes to use one of those pink remote-controlled vibrators so popular on cam sites these days. For the cost of a small tip, you can take control of it for a few seconds to show Chary a good time. Certainly, a better time than your penis could ever provide.
Chary has a tattoo on her shoulder that I'm struggling to make out. From what I can tell, it's a moth firing giant-sized sperm cells toward her mouth. However, something tells me that's not what it is. Either way, I would love to add my sperm cells to the mix.
Cams are vets of the live streaming game. They smelled change in the wind and jumped on the stream train just as it left the station. As a result, they have a unique design that forgoes the use of a main menu in exchange for an expansive filter. Because of this, the site is easy to use and easy on the eyes.
The selection of sluts on cams is top-notch. They have a wide range of categories, and the BDSM section thrives. Watching a stream is free, but you will have to sign up for an account to get in on the action.
I only have one complaint about cams. There are not many models performing any BDSM on the public stream. They are more than willing to do some crazy shit in a private room, but you don't see many whips, chains, and handcuffs in the public square.
Cams knows what the fuck they are doing, so if you are craving a BDSM live stream, find it here.
Unique design
Expansive filter
Sexy performers
Not enough public BDSM performance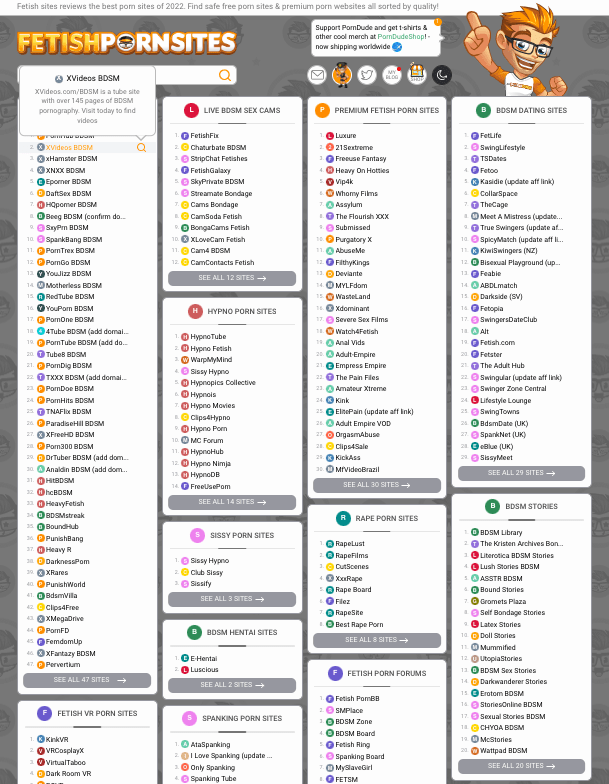 12+ Live BDSM Sex Cam Sites LIKE Cams Bondage