Show
12+
sites like

CamSoda Fetish

:
CamSoda Fetish
Despite most people thinking they have a fetish, very few people actually do. This mistake is because people don't understand the definition of fetish. True fetishes are activities or objects that must be present for a person to feel sexually gratified. It's not a preference. It absolutely has to be there, or that person will not perform sexually. Few people have such a linchpin that sex must be balanced upon. I certainly don't. While I love getting as freaky as freaky can be, in the end, as long as a pussy, mouth, or asshole is involved, I'm fucking.
Would I enjoy it if a bitch wore a leather gimp suit? Fuck yeah. I'll unzip that cunt like I'm opening a coin purse. Would I piss into some dumb cunts mouth if she asked? One hundred percent. Do I look forward to the next time I choke a bitch until she passes out? I can't fucking wait. But will I dip my dick into any pussy that comes along in the meantime? Faster than you can say, "Are you inside me yet?"
While few people have authentic fetishes, everyone has preferences and shit they like to do. Not even a missionary wants to have missionary sex all the damn time. These preferences can also be a fetish, and certain ones are more popular than others. Let's take a peek at some of the more common ones.
The combination of food and sex has been enjoyed for time eternal. Sex feels good. Eating feels good. So why wouldn't they go together like peanut butter and jelly? While I wouldn't recommend eating peanut butter and jelly sandwiches while fucking due to the sticking Hazzard, shit like chocolate and fruit is very common. I've never met a bitch that didn't want to snack on a chocolate-covered strawberry while I was balls deep in her baby chamber. The tongue is like the clit of food.
But, of course, the mouth isn't the only place you can insert fruit. Things like bananas and squash can go directly into the cooter. If you think a chocolate-dipped strawberry is good, wait until you've had a pussy dipped plantain. It's next level. And while you're down there, why not spray some whipped cream on her nips and lick it off? It's yummy and gives you a sugar boost to help fuel your thrusts.
Cuck Fuckers
This fetish has taken the lexicon by storm. Only a couple of years ago, no one had heard of it before, but now even your grandma knows what cuckolding is. If you have been living under a rock, cuckolding refers to the act of watching your partner have sex with someone else. People tend to either love or hate the idea. Those that hate the idea will be surprised to learn that around sixty percent of men and thirty-three percent of women have this fetish.
There are three main reasons people like cuckolding. The number one reason is that it turns them on knowing that other men find their partner sexy. It boosts their self-esteem, knowing they have ownership over a desirable woman. Why watch some dude check your girl out at the grocery store when you could watch him fuck her brains out?
The second reason is that men want to see their partners satisfied. They love to see their spouses come long and hard, and when they are causing the orgasm themselves, they can't take in all of its glory. If someone else puts in the leg work, the man can focus on his partner's pleasure.
The third and most well-known reason is humiliation. In this scenario, the man is a sub, and watching his partner get fucked is humiliating and embarrassing. Men who participate in this kind of cuckolding often have tiny dicks that cum too fast. While the woman is getting fucked by some dude, she will say shit like, "His dick is so much bigger than yours!" and "You never last this long!" It is certainly not my favorite thing in the world, but hey. Different strokes for different folks, I suppose.
Knowing that most of my readers are giant pussies means I assume all of them want to be cuckolded and humiliated. They already spend a fair portion of their days feeling humiliated, so why not bring it into the bedroom. Besides, their wives would divorce them if they weren't allowed to ride a giant black cock every once in a while. AKA every other day. My readers might as well pretend to enjoy it.
No matter what kind of kinks you may be into, the fetish section of Camsoda has you covered. Camsoda is one of the most trafficked and well-designed live streaming websites. These guys have been at it for years and years now and, in that time, have developed an incredible platform. When new webmasters need a template for a streaming site, they come here to take notes. These guys are the gold fucking standard.
The advantages of using an experienced service like Camsoda are numerous. Out of the gate, you will notice how well designed the place is. Everything feels like it's where it's supposed to be. You won't find yourselves hunting around fruitlessly. Just follow your instinct, and you will end up where you need to be.
The main menu sits up top and includes the options Home, Go live, Dating, Exclusive vids, My media, Top vids, bb, and Shop. Camsoda does have its own store if you want to advertise to the grocery clerk that you jerk off to live cams. I'm sure they would be glad to know. The "bb" link leads to the Camsoda blog. If you are a porn blog fan, this is one of the best. It's where the admin, models, and users all coagulate in one place and try to impress each other with the best porn. That's my kind of conversation.
Being one of the largest live streaming websites means there's always a massive selection of models online. So you will never run out of fresh bitches to watch, flicking the bean. For our fetish enthusiasts, it means that no matter what you are into, someone is doing it any time of the night or day. As they say, it's always five o'clock somewhere.
As you scroll through the thumbnails, you will not see bitches shitting on themselves or self-flagellating. Unfortunately, you will have to pay some bucks before they are willing to show you some extreme content. They aren't giving away this shit for free. Besides, they have to pay rent.
To figure out what a bitch is willing to do, first find an attractive one and click on her thumbnail. This brings up the stream and a profile detailing all the terrible things she is willing to do. As you become familiar with the site and its models, you will develop a sixth sense for the type of bitch that will be willing to do whatever it is you love. It's all in the eyes. The grosser your fetish, the more dead and given up a bitch needs to look.
Cum Bath
Right now, I'm watching Anastasia Hanks. This bitch's eyes say it all. They are lively enough to see she still functions in everyday life but wild enough to show that she's a certified, seven-days-a-week freak. Her cam shows generally focus on insanely sloppy wet blowjobs. Literally, her entire body is covered in milky blowjob gruel. I'm not even sure where it is all coming from. Does she dip herself in a vat of cum she collects from homeless dudes before she starts the show? I wouldn't put it past this bitch.
While maybe not everyone has a full-blown fetish, everyone does have some crazy shit that makes them hard or wet. Perhaps it's food play, maybe it's cuckolding, or something completely different, but regardless, you will find a bitch doing it here while she rubs her clit.
Camsoda has been around for many moons, so their site has become a finely tuned machine. You will love how easy it is to find the perfect woman of your dreams. It's as simple as scrolling down a never-ending list of sluts performing sexual acts you never imagined.
Camsoda has been at it for so many years that there aren't many corrections left to make anymore. However, I have one complaint that I make pretty often. I don't get how so many porn sites make the mistake of using bright white backgrounds. Don't they realize that prime porn watching time is in the middle of the night? I'm not trying to burn out my retinas jerking off.
If you love live streams and extreme fetishes, you won't find a much better website than Camsoda.
Experienced website
Large selection of freaky cunts
Bright background
Bright background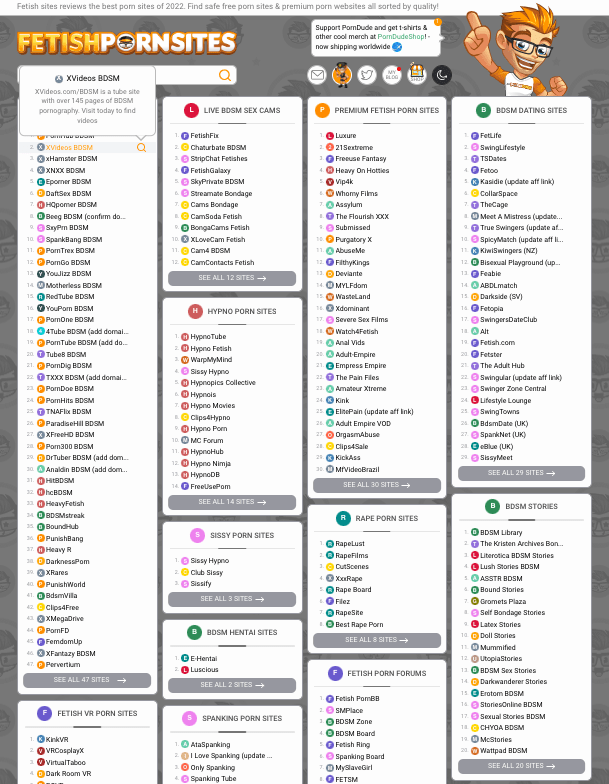 12+ Live BDSM Sex Cam Sites LIKE CamSoda Fetish