Show
34+
sites like

Feet9

:
Feet9
Does Feet 9 at least live up to the name? That's what I asked myself when the link popped up in my DMs this morning. I didn't have very high hopes at first, but it turns out they go above and beyond what they're talking about in the title: there are way more than 9 pretty feet here. If you were just hoping to gawk at the tootsies of four and a half women, be careful you don't nut your pants the moment you hit the landing page.
As you may have guessed by now, Feet9.com is a free foot fetish porn tube. I'm not sure what the 9 refers to, but maybe they tried to launch the site 8 times before and it just didn't stick. The domain's been around since 2014, and based on the traffic, I bet these guys will be around for a while. They get a good 1.5 million visitors per month, and today I'm going to find out what all those perverts are shaking their dicks at.
How Many Feet Are Really in Feet 9?
At a glance, Feet 9 looks a lot like any other random tube I've reviewed over at ThePornDude. This is FetishPornSites, though, so you already know it's going to be a little bit kinkier than your average video sharing site. They've got a wall of thumbnails dominating the front page, but it ain't the usual conglomeration of lesbian paysite samples, pirated anal scenes and amateur backseat blowjobs you'll find elsewhere. Look a little bit closer and you'll notice the soles, toes and arches of beautiful women are a focal point of nearly every thumbnail.
If you've got the same tastes as I do, the first thing you'll probably notice is the beautiful variety of foot porn in the collection. There are soft scenes of foot massages and high-heeled strolls along the sidewalk, to more hardcore vids of footjobs and foot worship. I see MILFs wrapping their soles around dicks and teens doing the same, not to mention white girls, Asians, Latinas and ebony goddesses. There's also a lot of foot domination and femdom, and even some foot fetish hentai on the front page.
There's a dropdown menu of Feet9 Channels accessible via the header, listing a few dozen of the site's most bonerific kinks and foot fetish subgenres. There are sections full of Teen Feet, Lesbian Feet and Cum on Feet. Tune in for Female Foot Slaves, Foot Crush and Pedal Pumping, plus Shoejobs, Tickling Feet and Trample porn. Any foot-oriented niche of porno seems like fair game around here.
According to digits in the search bar, Feet9.com currently has over 20,000 free videos in their stash. Most of them are fairly short, clocking in at just a few minutes, which ain't uncommon in the world of fetish porn. They do have a fair number of longer videos, though, if you prefer to settle in for a nice, long marathon fap session. Some of the recent material includes a twenty-minute Asian footjob and a half-hour POV movie of two college cuties in cotton socks double-teaming a dude's cock with their feet.
I always like to mention how often any porn site is updating with fresh content, but unfortunately, I couldn't find any upload dates listed anywhere on Feet 9. The site runs on user uploads, though, and gets nearly 50,000 visitors a day. It's safe to say that the site gets a steady stream of new foot fetish videos added all the time. This is the kind of joint you can work into your daily fap habit and never beat off to the same thing twice. (Unless you want to, of course. I've certainly got my fair share of go-to foot pornos when I'm in the mood!)
Whose Sexy Feet Are These?
As a professional masturbator and world-renown pornography scholar, I tend to start recognizing women right away when I visit your average free tube. Now that I've been banging pornstars and getting footjobs over at PornDudeCasting, I often recognize babes I've personally boned myself. Feet9.com ain't your typical tube, though, so there are fewer big-name video whores to be found. I spotted Alexis Fawx on the front page, but most of the faces are footsies are new to me.
The movies of Feet9.com star a delicious mix of pornstars, sexy amateurs and fetish models. Those of you who crank it to the kinky stuff on the regular will recognize babes like Amai Liu, Eva Nera and Naomi Swann. Even if you don't recognize any of the women, you're still going to have a good time because they're all sexy as fuck. Nobody's posting ugly feet on Feet 9 as far as I can tell.
Feet9.com doesn't have a central index of pornstars or models like most other free tubes have these days. That's not too big of a deal, but what's really disappointing is that they don't seem to tag the pornstars at all. If a model's name isn't in the title, it's not listed anywhere. That's going to make it a lot harder to find your favorite video whores, no matter how famous they are.
On the same note, the overall tagging is pretty weak. Each movie gets one tag, corresponding to those several dozen Channels I mentioned earlier. When a video collection is this large, it gets unwieldy and difficult to search unless the videos are tagged with the relevant sex acts, scenarios, pornstar types and fetishes. Some of your favorite content on Feet9 might be largely inaccessible, lost in the shuffle because nobody bothered to label it with the relevant subgenres, kinks and pornstars.
Fap Testing with a Lubed Silicone Foot
After getting the lay of the land, it was time for my official fap test of Feet 9. The only question was where to begin. Should I start with a simple foot massage, an amateur toe-sucking video, a MILF giving a footjob, or a foot cuckoldress humiliation POV clip? Should I spank it to broads with bare feet, nylons, fishnets or heels?
I decided to start with a 25-minute video, simply entitled Kinky Tattooed Babe Delivers A World Class Footjob And Handjob On The Floor. The vid started with minimal buffering when I hit Play, opening with some Asian text on the screen before cutting to a guy laying on the floor with a little chick standing on his thighs. She uses her feet to stroke his dick through his boxers for a couple minutes before stepping on his naked dick. As soon as she sits down between his ankles, she wraps both soles around his ding-dong and goes to town.
It's a nice little amateur scene, but I fell down the rabbit hole, clicking through the Related Videos beneath the video player. I next watched a 4K, professionally shot video of a redhead taking off her pointy scarpins to give a footjob in her nylons, followed by a POV vid of a brunette giving a BJ before letting her feet do the work.
One thing I didn't like was how Feet9 mixes links to their white-label cam site in with the videos. Webcam sites are a common way for tubes to monetize, and I'm definitely cool with that, but I don't like the bait and switch. Let me click my way to the live stuff when I'm in the mood for it. If you trick me into it by dropping a thumbnail among the video previews, I ain't going to be happy.
I get it, though. Hey, I run a handful of my own adult sites, including PornWebmasters where I give away a lot of my secrets, so I understand all about monetization. For what it's worth, I didn't see any spam during my visit today. Maybe it was just a good day for my adblocker, but fetish tubes often shoot you with the spam cannon just because they can get away with it. By contrast, the user experience here was convenient and easy to masturbate to, even with those hidden cam links.
At the end of the day, Feet9.com is an easy recommendation for anybody with a foot fetish who wants to watch something instant and free. The stash is deep and the setup works really fucking well, so you're just a couple clicks away from a satisfying wank session. What else could you want?
Free foot fetish tube
A great range of foot fetish content
20,000+ Videos
User-powered collection
Sexy pornstars, amateurs and fetish models
Minimal spam
Weak tagging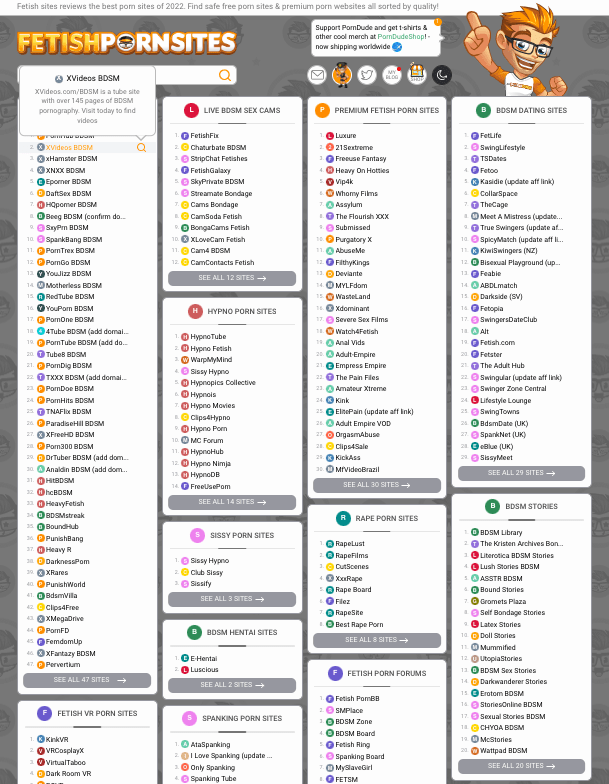 34+ Feet Porn Sites LIKE Feet9