Show
34+
sites like

Foot Fetish Videos

:
Foot Fetish Videos
Foot Fetish Videos can be a good way to kill a few hours, provided you've got a bottle of lotion and a thing for pretty girls and their sexy little tootsies. I'm not afraid to admit I indulge in a bit of foot-based fetishism, as those low-end extremities are arguably one of the most sensual parts of a woman. What is it about feet that make my dick as hard as a rock: the pedicured toes, the exquisite soles, those feminine arches or something else altogether? It's probably a combination of all these things, plus some womanly mystique that I have yet to unravel.
Fortunately, you don't have to understand your attraction to feet to enjoy porn that focuses on them. One study found that almost half the population has podophilia, also known as a boner for feet (or a wet pussy for feet, in the case of women with the fetish). Theoretically, that means that half the population would get a kick out of Foot-Fetish-Videos.net, a blog collecting full-length foot porn videos for free download. I just bought a new silicone foot with a synthetic butthole in the heel and I've been dying to try it out. This seems like the perfect opportunity.
Jacking Off to Foot-Fetish-Videos
It's no secret that your old friend ThePornDude is really into feet. Hell, if you've been watching over at PornDudeCasting, you know I've gotten footjobs from dozens of sexy pornstars and rising amateurs like Kylie Quinn, Eliza Ibarra, Khloe Kapri and Violet Myers. Misha Cross even sucked on my own toes after an educational little stroll in my back yard. To say I'm a fan of sexy feet would be the understatement of the year.
That's why I was eager to check out Foot-Fetish-Videos the moment the link dropped into my inbox. It's a simple title that tells you exactly what you're going to get, and it happens to be exactly what I'm into. I kind of assumed this was going to be another free tube, simply because that's still the dominant format for free porn sites. Turns out, it's actually a blog-style presentation, which works really well for download sites.
Visually, it's a simple site. It looks like they're running on a very basic WordPress theme with minimal, if any customization. They don't even have a logo, so I'm guessing branding ain't a big concern of theirs. The lack of bells and whistles doesn't seem to be hurting them, though, as they've been giving out Foot Fetish Videos since the beginning of 2018.
Flashy layouts can help garner you attention, which is especially important when you don't have much to offer. Foot-Fetish-Videos.net, on the other hand, has plenty to offer, and they make it their primary focus. As soon as you load up the blog, you'll see animated GIFs, screengrabs and embedded videos from those titular vids. Right away, you'll probably notice this ain't a one-trick website. They've got a nice little variety of foot fetish videos.
They don't go super hard with the tagging, instead keeping a trim list of seven broad categories. A sidebar menu helpfully offers quick access to the sections full of Lesbians, Foot Worship, Nylon Feet and F/M videos. There's a Feet Only area if you really only need feet to get you going, a VIP Clips page for the important motherfuckers out there, and an HD section if you only want the high-res material. The inclusion of HD as a category made me worry the stash had a ton of Tetris-quality bullshit, but the vast majority of scenes are released in HD. This is the 21st century, after all.
If you've been jerking off to foot porn for a while now, there's a decent chance you already have some favorite producers whose work always gets you hard and drippy. The blog was clearly created by folks who share your fetish, and they've done a great job organizing the collection by studio. You can choose from dozens of foot fetish studios, again listed in a convenient sidebar menu.
How Much Foot Porn You Looking For?
Sites with such a tight focus on a deeper porn niche or fetish often grow slowly, especially when compared to the everything-goes tubes. Foot-Fetish-Videos doesn't update every single day, but they do drop a ton of new flicks in big batch releases. I'm reviewing the site on a Friday morning and they've already added nearly thirty movies today. The last batch of updates was even fatter, but was posted just a little more than a week ago.
As I mentioned earlier, the site has been around since 2018, which means they've had plenty of time to build the collection before I even got here. To date, they've posted nearly 2300 Foot Fetish Videos. I did run into some dead links, particularly among the older updates to the site. That's pretty common on download blogs like this, and it wasn't such an issue that I wanted to jump ship at any point.
One of today's updates is a lesbian foot worship movie, represented out front by an animated GIF of one babe licking another's sole. There's a video player right beneath it, so I hit the Play button and watched the girls playing with each other's feet for a while. By "a while," I mean exactly thirty seconds, at which points I got cut off.
"Only members with subscription to foot-fetish-videos.net can watch full movie," reads the broken English that pops up when the video stops. Clicking the BUY SUBSCRIPTION button brings me to a signup page for TezFiles. It's cheaper than a foot fetish paysite, but some of you may be wondering, "What the fuck? I thought this was a free site." Technically, it is a free site, but it does come with a few little catches.
So What's the Catch?
Those of you perverts out there with experience downloading full-length pornos from blogs or discussion forums have already seen this setup a thousand times before. Foot-Fetish-Videos.net doesn't actually host anything themselves, instead offloading the job to file locker services like TezFiles. It's a good way to run a site like this because it saves a ton of bandwidth for the porn webmaster, but the file hosts do come with their own little set of issues.
For one thing, free users can only stream the intro moments from any movie. You can download the full foot fetish flicks, but unless you've paid for a premium account, you're going to have some wait times. Free users get a limited number of downloads per day, and you've got to contend with dialup download speeds. I'm talking about hours of waiting for one video, just like your grandpa used to do when he had AOL back in the olden days. Your best bet is to choose a movie before you go to bed or go to work, and then you'll have something to crank off to later.
You can bypass all of those file host issues by shelling out a few bucks for a premium account. Only a fraction of you cheapskates are going to do that, which is fine. In fact, most wankers would agree that the wait times and limits are a totally reasonable trade for all this free porno. Anybody who buys fetish porn of any kind knows how pricey it can be compared to the vanilla stuff, but here's a bunch of free Foot Fetish Videos for those with just a little bit of patience.
Me? I've got all the time in the world, and yeah, I decided to start with that topless lesbian foot worship video. I had to wait 30 seconds for the download to start, but it's coming through faster than they said it would. They listed it as a 4+ hour download, but my browser says I'll have it in an hour. Alternately, I could get an account and have it in two minutes. Ah, decisions, decisions.
Whether you decide to get your foot porn for cheap or entirely for free, Foot-Fetish-Videos.net has enough of the stuff to keep your hands busy and your balls thoroughly drained. Their presentation is as simple as they come, but their collection is a thing to behold if you're into beautiful female feet. Now, if you'll excuse me, I'm going to go find some more porno to download.
Free foot fetish porn downloads
A nice range of foot fetish videos
Dozens of foot fetish studios
Crazy volume of updates
~2300 Feet vids and counting
Some dead links
Files hosted on file locker services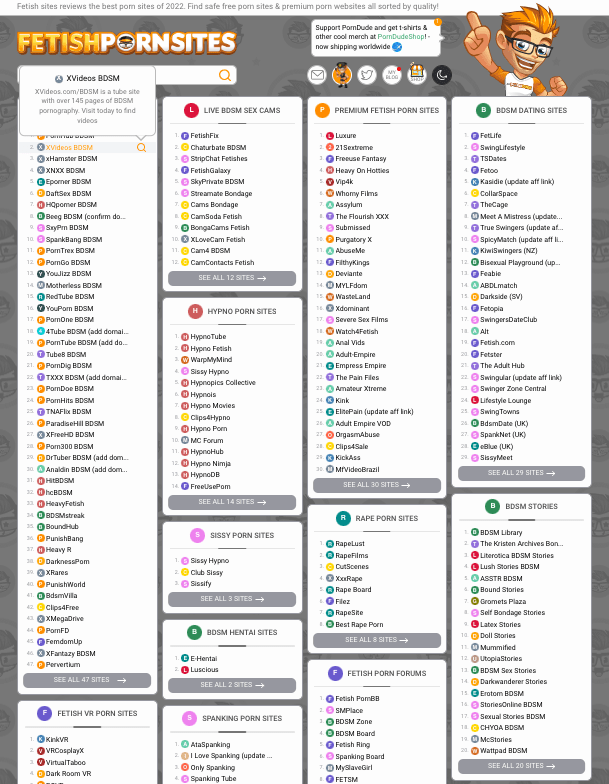 34+ Feet Porn Sites LIKE Foot Fetish Videos