Show
34+
sites like

FootJob-HD

:
FootJob-HD
Hey, it looks like I am not the only talented writer in the world! Footjob-hd.net boasts a hell of a writer/webmaster who really knows how to present a porn joint properly! Although the fucker behind the homepage text pretty much describes the essence of footjob-hd.net, I think that my word is what matters the most. Of course, I will write an unbiased, truthful, banging review that is gonna tell the world what footjob-hd.net is all about! Embrace yourselves! Here we go.
Who says that all porn pages need to look the same?!
Yeah, fuck the rules! Why not put an all-white background and big-ass thumbnails! Why do all porn websites need to be packed with ads and slideshows? Right from the beginning, I am into footjob-hd.net for their obvious "we don't give a fuck" attitude! Without any hesitation, this brave joint puts everything on display right at the top of the homepage, saying everything about the privileges and limitations for all visitors. Yeah, you can stream videos, but there is a download limit. If you like it, you are free to stick around. If not, fuck off! That's the attitude!
The homepage shows the latest uploads. Three videos were uploaded yesterday, then there were two more three days ago, and then three more three days before that. I think that you understand the update schedule, right? Even before taking a good look inside the categories list or trying to play a video, I knew that finding content around here is a fucking breeze. Tags, categories, and pornstar names are all over footjob-hd.net, but I will return to this topic later. Now, let me tell you how the player works.
Hmm, I knew that this would happen
I never fake it! I don't even look at the website before I start writing because I want you to feel what I feeling while I am discovering all ups and downs on a website. Right now, it dawned on me why footjob-hd.net was so clean and ad-free. Well, fuckers, I played a video and watched it for a minute when a message Go premium popped up and killed my boner. It's not like I really need to pay for porn (I am the dude, after all), but there is something about the concept of hooking up someone on porn before you ask for payment that seems like some brutal shit to me.
Hey, we are all grown-ups, and we should be able to deal with shit like this! Now, suck it up and choose a membership plan. You'll have to buy access to this Premium Pro thing that will unlock footjob-hd.net for you. The prices are as follows - $24.95/month for 30 days, $19.98/month for 90 days, and $13.33 for a yearly membership. To proceed with the payment, you will have to create an account. You know, enter your email address, password, payment details, and so on. Once you are done, you'll get to stream footjob-hd.net content and download 1080p smut. Nothing grainy about these flicks, my dear fetishists!
The daily download limit is 50GB. All files are gonna be checked for you before you begin downloading to make sure that files are free of any malware or viruses. Footjob-hd.net is a responsive page, meaning that you'll get to stream and watch porn on all of your devices as soon as you pick the membership plan. Another noteworthy thing is that all premium members get to save files in their favorite list, watch video previews without any limitations, and enjoy anonymous, simultaneous, and fast downloads. Hey, I am getting bored of this shit. Let's get down to content!
Are you ready for the feet frenzy?
So, you are into feet?! May I interest you in the Barefoot Footjob category? Well, I know that this is a major turn-on for all foot fetishists since footjob-hd.net seems to be very focused on getting these kinds of videos. At the time of this review, the Barefoot Footjob stash had 4.8K+ videos! Insane! What I can tell you is that these flicks are usually POV, but there are no rules when it comes to the models. I've seen anything from barely legal sluts, to mature hoes with saggy tits.
The videos come in the 1920×1080 resolution, meaning that you'll get to see every fold on these magnificent feet! Just to make sure that you are about to download porn of your liking, read a short description that you'll find below the player. A couple of sentences is more than enough to give you a hint.
Hey, I am still not done with the categories! The next one is Legwear Footjobs, and it counts around 1.4K flicks in total. The Sockjobs category hasn't been updated in over two months, and it counts a little over 200 videos. Not too good, not terrible. The Shoejob one is even smaller - around 50 clips in total.
Now I am getting pissed! Remember that talented writer I was telling you about earlier? Well, he sure knows how to write, but he ain't as smart as he looks. Namely, this dude suggests all visitors and members pay close attention to the Amateur category. Well, it hasn't been updated since 2017, and it counts around 100 clips. If this category is something you rely on to bring you more members footjob-hd.net, you are fucking screwed!
Other cool filtering tools
The Studios list is always a good addition, but I don't know if it is of any use to porn newbies, to be honest. To use this list as a filtering tool, you'll need to know what each studio focuses on, right? Footjob-hd.net has included a big-ass list of studios, but they could have written a couple of words on each, especially since the website is a premium one. You know, as a premium website, you need to step it up and really make sure your members get your money's worth. Let's see if footjob-hd.net repeated the same mistake with the models.
One click on Alexia Tae, for example, opens the list of her movies on footjob-hd.net, but the bio is nowhere to be found. The good thing is that the models' list on footjob-hd.net is a mix of amateurs and professionals, meaning that you might use this list as a filtering tool if you already have a favorite pornstar. Some of the well-known names I saw are Alura Jenson, Cadence Lux, Cherry Kiss, Diamond Foxxx, Kelsi Monroe, and Lauren Phillips. The list is really huge, and I really don't have the whole day to look at it and write about it. I am here to help, not do your dirty work!
Mature hotties and OnlyFans models are also here
Fifty videos presenting horny MILFs is a decent number. However, this stash is hardly growing as we speak since the latest update was uploaded five years ago! Damn, footjob-hd.net, what's wrong with MILFs and their feet?! Hey, there is a promo code in one of the sections that gives all members 10% more days with any membership - three days for a monthly plan, nine days for the 90-day plan, and so on.
OnlyFans is staggeringly popular, so I was expecting to see more OnlyFans leaks on footjob-hd.net, especially because the website has a separate category for this type of content. Only 19 flicks for now, and again, irregular updates. The only way to contact footjob-hd.net is via a contact form. It might take some time to get a reply or have your suggestion heard, but someone really needs to contact footjob-hd.net and tell them that all categories are equally important, especially if you are expecting someone to pay for it!
Let's end this on a positive note
Hey, it all comes down to expectations. Knowing that a website is a premium one raises the bar, and a good website needs to step up to the game. However, footjob-hd.net is on a good path to stardom, owing lots of its success to its HD releases. The membership price is not a big of a deal when you take into consideration that footjob-hd.net is a fetish website that is packed with filtering tools. It's definitely worth a shot and a monthly subscription at least. Happy fapping, fuckers! Bye!
HD flicks that can be streamed or downloaded
Exclusive fetish content
The website is easy to navigate
The daily download limit
You have to go premium to watch or download movies
Not all categories are big or updated regularly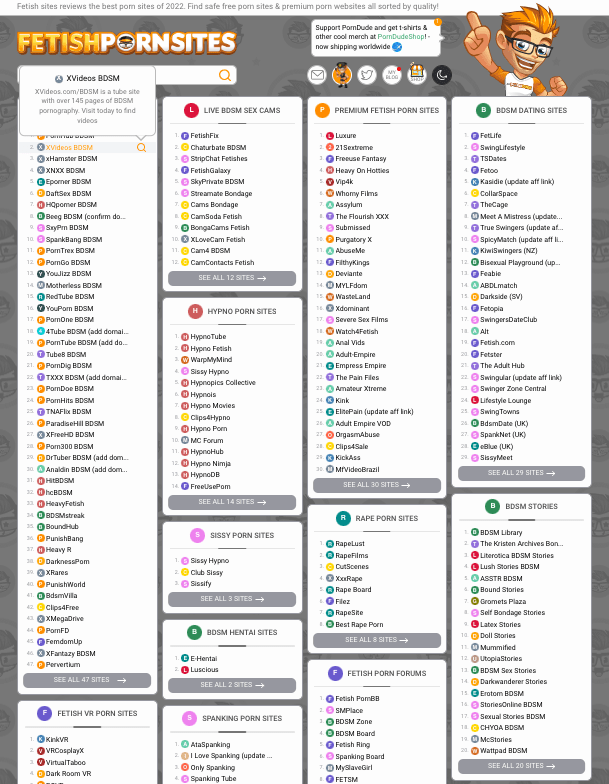 34+ Feet Porn Sites LIKE FootJob-HD