Show
34+
sites like

FootStockings

:
FootStockings
Foot Stockings! Tube websites are great! Despite a couple of fuck-ups that you'll probably come across on these joints, you are sure to get a lot without giving anything in return, right? Prepare to explore another selfless place that is packed with fetish stuff - footstockings.com. Although the name is pretty self-explanatory, I am gonna write over a thousand words to explain the obvious. You fuckers are gonna read, admire my knowledge and wittiness, and then I am gonna let you enjoy footstockings.com content. Fair enough! Let's begin!
Not all tube websites are the same
The first impression upon loading footstockings.com was - Holly shit, this place is big! I haven't had the chance to count the videos yet, but I am sure that I am gonna see some impressive numbers later. The obvious vibe of a tube website is there, with a shitload of ads to take the things to a whole new level of annoying. Thumbnails show a slideshow preview, which is fine since most tube websites don't give a damn about moving thumbnails. Right from the beginning, it's obvious that footstockings.com is a diverse website.
The black background is an expected choice, but the number of ads, pop-ups, and random pages is fucking insane! Every time I tried to close a mothafucking ad, I was redirected to another damn page that had nothing to do with footstockings.com! However, pretty soon after the initial annoyance, I noticed stuff like "added 12 minutes ago, added 14 minutes ago, added 16 minutes ago", as well as the upload option for all members. The conclusion is that footstockings.com is one of those websites where members get to upload their content. By the rule, these pages are packed with content and boast a crazy update schedule.
You won't have to worry about the filtering tools
First things first. Following this rule, I started from left to right, exploring each section with care. The first one is named New Porn, which showed me that footstockings.com adds at least thirty new videos each day. I am talking about a shit load of foot worship videos, feet smelling, footjobs, lesbian foot fetish...you know, all sorts of shit. Footstockings.com is a fetish website that presents the feet fetish in all its glory and a bunch of horny mothafuckers who call themselves members/contributors is a great source of diverse content.
The first thing that could be used to filter the content is the list of top categories located on the left side of the New Porn collection. Feet Fucking is the best one, or at least that's what footstockings.com visitors think. I can't say that I am surprised cause, to be honest, I've got a boner from the footjob scenes on more than one occasion, and I wouldn't call myself a foot fetishist. Stinky feet is one of the most popular categories on footstockings.com, proving to me that people who visit footstockings.com are a bunch of weird fuckers. Hey, the good news is that footstockings.com provides all sorts of kinky stuff for all kinds of creeps!
So, you want to watch HD porn?
Hey, I can almost see you grabbing your cock, rushing to watch HD smut for free! Well, first of all, you'll have to put up with ads that are all over the player. If you try closing them, you'll regret it, because all hell of random pages will break loose. Don't do it, although it means that you won't get to skip the video because half of the player is covered with these pesky, idiotic, annoying, shitty ads. You won't even get to click on the Skip Ad button. A huge, huge downfall!
HD videos are free to stream and download! Not a sight of that crappy message - low-resolution video, go premium if you want the high-resolution - and similar shit. Nope! Everything is crisp and 100% free. Below each video, HD or not, you are gonna see the number of views, duration, categories, tags, and download links. In most cases, you have two options - download 720p or 1080p. The instant you click on the desired options, the download will begin, bringing you the video of your desire in less than two minutes (the file size depends on the video length and quality).
I am not here to judge
Do you know what fascinates me? The fact that most viewed video on footstockings.com is a two-minute-long amateur clip where a chick strokes a cock with her feet in a car. With over 400K views, this flick sends a clear signal that fetishists are into weird stuff that the rest of us have a hard time understanding.
Hey, I am not here to judge! I have looked at another top-five video with over 260K views. Asian tickling where the girls are fully dressed. Hmm, I am not gonna try to understand the appeal behind this video. I am gonna stop bullshitting and do my fucking job - write a review on footstockings.com and let you fuckers enjoy whatever you want to enjoy.
The models are mostly amateurs, with a couple of exemptions here and there. Yet again, I get that you guys dig the "real" vibe the amateur chicks tend to exude. The most-viewed amateur video in a car I mentioned before proved to me that I don't know shit about fetishists and that HD picture quality doesn't necessarily mean that a video is gonna be popular. It all comes down to the potential to cater to fetishists' needs, and that's one of the things footstockings.com excels at.
It's time to focus on numbers now
The category that counts the biggest number of videos (4.6K+) is the Foot Fetish One. All videos in this stash and any other stash are free to stream and download. The picture sets are downloadable, too, although I haven't seen the option to download the whole gallery. Instead, it seems like you'll have to download pictures one by one. The Foot Humiliation counts 1.1K+ videos. You know, I am dealing with boring figures to let you know what kind of content you can expect from footstockings.com!
Some of the other categories are Foot Slavery (360+ flicks), Shoeplay (1.1K+), Lesbian Foot Fetish (790+), and Soles Toes (2.8K+). Now, how do you filter the content in stashes that count a large number of videos? Well, below each flick, you'll find a list of tags. For example, you can click on the tag named Brunette, and footstockings.com will present you with all the tag-related videos. Somehow, I expected to see a full list of tags somewhere, but I guess that footstockings.com thought this was unnecessary. Truth be told, the search box is working like a charm.
Pre-made playlists focusing on a specific fetish
Another way to pinpoint the content of your desire is to check the Playlists section on footstockings.com. Someone has already made these lists and given each of them a suitable title telling you what to expect - high heels, socks, stinky nylons, feet worship, etc. In some cases, you'll see the models' names as the playlist title. The number of videos in each playlist ranges from only a couple to 180+ videos.
To make these playlists, you'll have to become a member of footstockings.com. It's an easy and 100% free process that requires you to enter your email, username, and password. Once you are done with this, you'll be able to join a community of foot fetishists, share your content, chat with other people, and follow your favorite stars or contributors.
Don't get me started on the opportunities to promote your content if you are a content creator who doesn't shy away from platforms like OnlyFans. Footstockings.com is teeming with OnlyFans leaks. You can either enjoy it as a visitor who is looking for live shows to jerk off to or as a person who is looking for free and effective ways to promote its content.
The bottom line
What's not to like about a tube website that is packed with fetish content, that is free, and neatly organized? You have to be a complete idiot to pass on the opportunity to wank off to footstockings.com! Diversity, categories, tags, hot chick, and loads of beautiful feet in one place - footstockings.com. You've spent way too many minutes reading this review! Now it's your turn to dig into this supreme stash of porn. See ya soon!
All videos are free for streaming and downloading
HD fetish content and lots of filtering tools
A vast community of contributors and like-minded people
Too many ads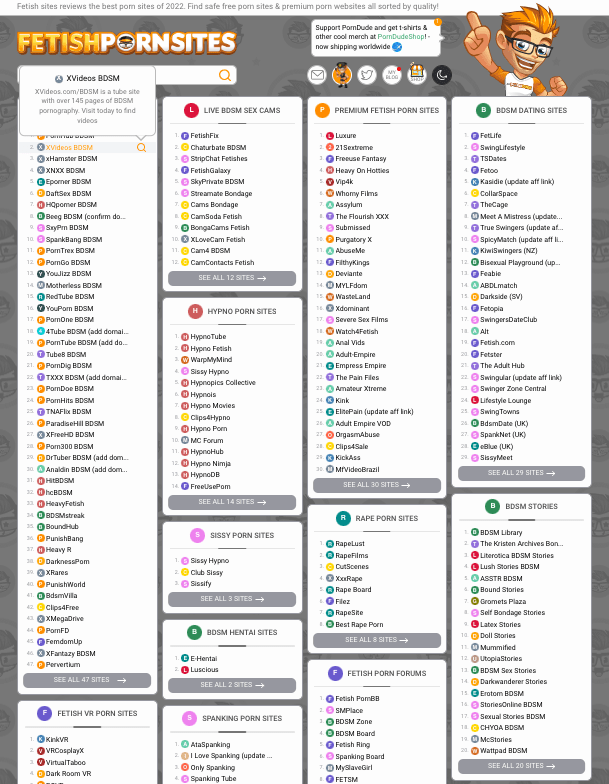 34+ Feet Porn Sites LIKE FootStockings