Show
34+
sites like

NudeVista Foot Fetish

:
NudeVista Foot Fetish
I'm not sure how, but according to some surveys, upwards of half the population has some level of a foot fetish. However, amongst my readers, I think that percentage is more like ninety percent. Shit. It could be even higher than that.
No matter how many people have foot fetishes, the fact is that the rest of us look down upon those fucks. Feet are literally on the bottom of the totem pole of human body parts. They stink, they're dirty, they get walked on all day, and most of them are funny looking.
You Get What You Deserve
But those are the exact reasons that my readers love them so much. You fuckers love to be degraded because you know you deserve it. Tits and ass are way too fancy for the likes of my readers. You should be forced to look away, and god forbid you touch them. The only tit you get to suck on is your mothers, but considering how much you disgusting fucks love incest, you might prefer it that way.
In fact, you bastards don't even deserve clean feet. You're far too pathetic for freshly washed tootsies. Your life of laziness and video games is only worthy of feet that haven't been showered in a month. A bitches sock should look like a cast before you remove them. There should be visible stink lines rising from the toes like a looney tunes cartoon.
Foot jobs are definitely not on the menu. That's more pleasure than you deserve to derive from a sexual experience. Instead, you must clean the scum from in between a fat bitches toes while you masturbate with no lube. The only lube you get is foot sweat mixed with nail clippings.
Here is a good one. You should take the pointy end of a nail file to scrape the dirt and gook out from under a bitches big toenail and eat that shit. No, scratch eating it. You have to snort it like a fat line of toecaine.
I think your reaction to snorting under nail goo will be similar to the time Steve O from Jackass did a line of wasabi, but with more semen involved.
Once you get that down, you should shave the callouses off her heels and use it to salt some french fries. I bet it will taste like a mixture of fermented fish paste and rotted flesh. Who doesn't want a piece of that action?
If I were a slutty chick, and you were able to pull all of that off, I would reward you with a one-footed foot job. You still don't deserve the pleasure of two feet, but I'd literally hop on your cock.
However, when it comes to foot porn, you guys can watch whatever you like. Porn is about fantasy, not real life, so the next time your foot fetish comes calling, hop on NudeVista.
A Google Tube with Tootsies
Nude Vista is a porn tube site focused more on locating great content than crafting excellent web design. These guys basically lifted their whole aesthetic from Google image search. Even the icon they use is based on the red, green, and blue google symbols.
While such a design gets a zero for creativity, it gets a ten for intuitive navigability. Who hasn't used fucking google? In fact, I've even used Google images to watch porn and jerk off. I like to call it "Google whacking."
Nude Vista does not host any porn on its site. Instead, they feature links to the location of the porn's origin. This makes it a sort of middle man that filters dozens of porn sites for only the best content.
Nude Vista gets videos from a wide range of sites, including Tnaflix, Chanel Preston, XXX Files, Upornia, XHampster, H Clips, Nicky Angel, Mature Club, Bravo Tube, HDZog, BDSM X Tube, and Dee Williams.
The main menu hangs out at the top of the site and includes the options Home, Search bar, Language selector, Log in, Mobile, Preferences, Favorites, Tubes, Pictures, Models, Directory, Advanced search, and Live sex. Adjacent to the search bar is a small filter that currently includes Gay, Tranny, Bizzare video, Filter by length, Filter by date, and More.
Nude Vista offers its site in twelve languages. It's not as many as Google has, but it's still a respectable number. Nude Vista hasn't been around as long as some of the major tube sites, but they made a global impact in the time they've had.
The mobile version of the site is every bit as usable as the desktop version. As you may have guessed, they snatched the Google aesthetic for mobile also.
Because Nude Vista gets content from porn sites all over the internet, the list of featured models is as long as they come. It's fucking insane. You could masturbate to a different model every day for the rest of your life and not run out.
If you want to search out a model type instead of a models name, they have an incredibly accurate search engine that includes almost every parameter I can think of, including Eye color, dimensions, Race, Profession, Birthplace, Piercings, Career start date, Career status, Age, and Birthday.
Of course, they list all the most popular models on the site, but they also post models with birthdays today. These motherfuckers have everything covered.
The advanced search on Nude Vista is quite unique. Most advanced searches look something like the model search I just covered. Instead, this one has you typing.
There are four levels to the search. The first is labeled "All these words." You can go crazy here and list all the words that describe what you are looking for. The second is labeled "This exact word or phrase" and can help you locate particular titles.
The third is labeled "Any of these words." For example, let's say you typed "skinny teen anal." The search result will give you all the skinny videos, all the teen videos, and all the anal videos. Finally, the last advanced search option is labeled "none of these words." This is great for filtering out fat bitches and Albanian midgets.
Nude Vista features its own live streaming site loaded with talented performers that will melt your cock into a puddle of thick, chunky cum. It's every bit as good as any of the leading live streaming porn sites. There is even plenty of foot fetish content.
Someone Get The Penisillin
Speaking of foot fetish content, let's check some out. I feel the urge to start with "Roxy and Friend Foot Fun" because it features one of my least favorite activities in foot porn.
The video starts off normally enough with some toe-sucking shared between two lesbians. That I don't mind, it's certainly not my preferred body part to be sucked, but I get where the urge comes from.
Unfortunately, soon after the toe-sucking ends, these bitches switch up to toeing each other. The pussy is a sensitive organ. It can't handle the abuse that a cock can. Balls might be fragile, but they won't become infected from a foot touch.
I'm surprised by how much foot is able to fit in this bitches vagina. I hope she douches the moment the camera turns off. If not, that vag is going to be gangrenous in a day or two. I can't imagine dying from a green pussy would be a good time.
"MILF Foot Fetish HD Porn" has a little bit of everything that feet guys enjoy. It starts with a close-up of a bitches feet while she has them sitting on the armrest of a couch she is lying on. I assume this MILF scored the roll by having unusually large tootsies.
Within a few seconds, a man's hands come into frame and tie this cunts angles together. Once her feet are immobilized, the guy uses an assortment of objects to tickle the bottom of her feet. Said objects include a fuzzy keychain, chopstick, purple pen, Hands, and a hair brush.
This bitch looks like she's being tortured. Eventually, the guy gives her some relief by lubing those things up and sticking his dick in between. Her ankles being tied together creates a natural foot pussy for him to fuck.
Feet guys will strain to find a better collection of foot porn on a general tube site. If you get bored with the videos, try the pictures or live streams. No matter where you look, you'll find top-notch porno.
While I understand why they ripped off their look from google, I wouldn't mind if they changed the background color from a stark white to anything else. Also, prepare to deal with some pop-ups. They aren't terrible, but they certainly aren't great either.
Nearly all of my readers are feet guys, so I think the traffic on Nude Vista is about to increase substantially.
Great selection of foot porn for a tube site
Intuitive design
Live streams
Annoying pop-ups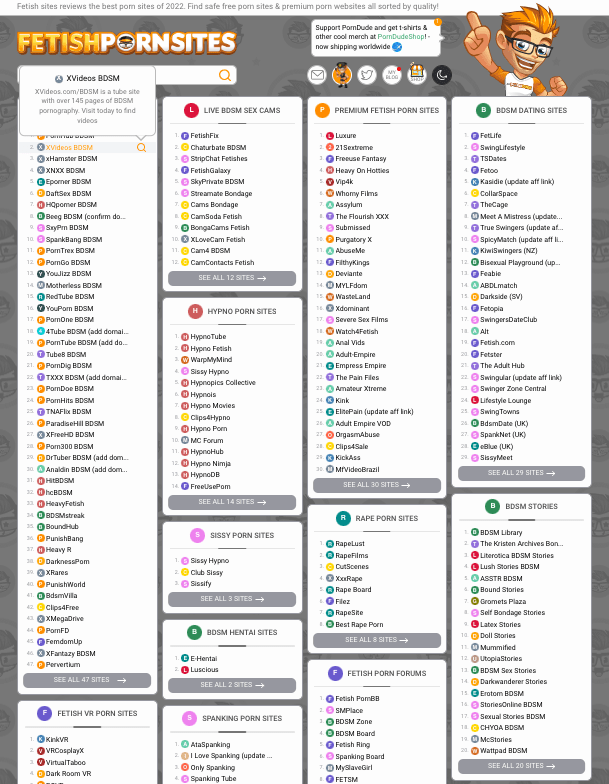 34+ Feet Porn Sites LIKE NudeVista Foot Fetish